How to Get 1GB for N100 on Airtel SmartTrybe Night Plan
This is just to take you back to memory lane and also to update you with the current changes made, to those subscribers who will like to make heavy download at night.
Airtel SmartTrybe
is a youth-centric offering that offers pocket-friendly call and data rates as well as irresistible freebies to customers. You get free 15MB every week on this tariff plan.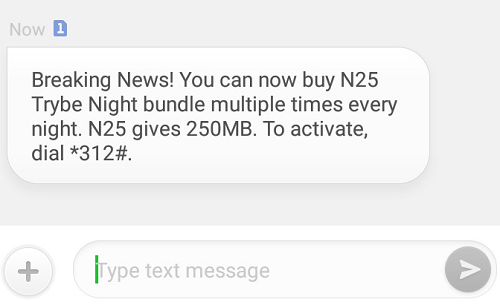 SmartTrybe gives subscribers 11k/sec rate to all networks after the first 50 secs, and cheapest cost of data bundle.
Trybe Special Data: cheap data bundle and call rates which gives you 1GB of data for N500 and it will last you for one week (7 days).
Trybe Night Browsing: You can get 250MB data for N25 (12:00am – 5:00am), and the good aspect is that you can subscribe over and over again. Meaning you can get 1GB with N100 or more.
This is highly recommended if you have something heavy to download at night.
Migrate to SmartTrybe by dialing *312#
If you've tried this out, let us know what you think.