How to Earn Real Money from Facebook new Survey App
Facebook has recently launched a new app and it pays you real money to participate in surveys. The app which is called Facebook Viewpoints rewards users for helping the company change the face of technology by participating in surveys, tasks, and research.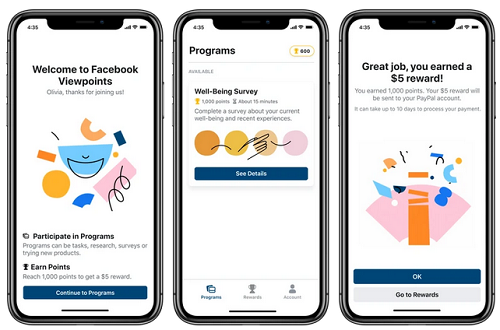 Users will be required to create a Facebook Viewpoint account, after which they will be invited to join programs through which they can earn points.
Users will be informed of what information will be collected, how it will be used and how many points will the user earn from that particular study.
Currently, users have access to a single survey, which takes 15 minutes to complete and pays $5 (about £3.90).
It asks questions about your "well-being" and is only available to people aged 18+ in the US with a Facebook account for now.
How to Participate in Facebook Viewpoints Research Survey
Set up your account after the installations have been completed
You'll then be invited to join "programs", the completions of which earn you points for your account. And for every 1,000 points you accumulate, Facebook will send you $5 via your PayPal account.
You can exchange these points for cash sent directly to your PayPal account. For now, it is not clear what the maximum you can earn from one survey is, or how long the average program will be.
Available in the US for now, the program will be expanded to other counties next year.
You can check out more about it
here
.