Konga Ready to Fix your Phone for Free - Konga Yu Break it, WeFix it
Smartphone screen scratches and damages is something that is unavoidable to smartphone users… that is why Konga is offering you WeFix it services for damaged devices.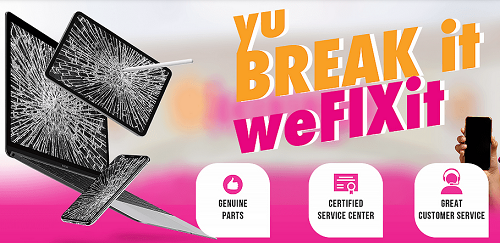 Konga Yu Break it WeFix it is an after sales services to repair or fix damaged devices purchased within a particular period. This cover is for damages NOT covered under warranty due to liquid intrusion or screen damages only. They can fix your laptops, Tablets, and smartphones free of charge for you.
The good news is that once you send your damaged device to Konga store, it will be fixed within 2-15 business days.
This services is solely offered by Konga brand, processed only by certified OEM service centers. If your warranty is still valid, it continues to count even after repairs. All other warranty issues( earpiece, drains battery etc) experienced on item at the time of repair are fixed free.
Requirements and how to Send Devices for Free of Charge
Repair
?
A valid proof that your device was bought from a Konga Store or highlighted items online
Bring damaged item to our store or Ship Item To Us.
Provide invoice of Purchase from Konga
Be sure date of purchase is within a year.
Ensure item has not been sent in for repairs before under this platform.
Terms and Conditions
10% of the amount on your invoice will be charged as handling and logistics fee. For Liquid damages & items beyond economic repair, Customers are to Pay 50% of their invoice charge to get a new device. (This amount also covers handling charge) Items sold at Crash prices are not covered under this Plan.