Smile NG TRUEUnlimited Plan For the Christmas Season
SMILE NG has launched a TRUEUnlimited data plan, no throttling, no data cap… just keep browsing and downloading.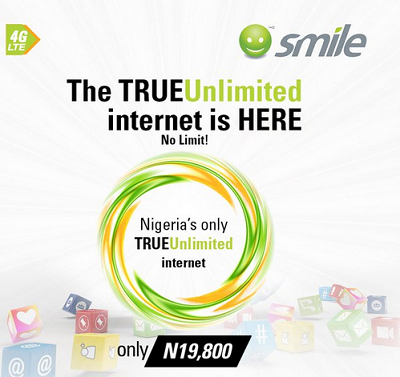 Look out for the "Perfect Gift" campaign and the "TRUE UnlimitedPremium" campaign. Each of these two campaigns muster enough benefits for consumers to stand on its own steam but the desire to delight customers at this Yuletide period has made Smile run the two campaigns concurrently.
The "Perfect Gift" campaign includes two exciting offers. The first is available at the cost of N12,000 and includes 25GB with a NEW SMiFi device. The 25GB is valid for 30 days. Also included is a 100% BONUS on recharge for the first 3 months. The BONUS data will have higher priority of use over paid data and will be valid for 7 days. In addition, customer will enjoy 10 mins local voice calls and unlimited on-net calls and SMSs.
The second offer gives customers, at the cost of N14, 500, 80GB with a NEW SMiFi device. To extend the data into the New Year, the 80GB is split into 50GB on activation and 5GB every month following, for 6 months, upon recharge of a minimum of a N3, 000 data plan. Both the 50GB and the 5GB monthly BONUS data is valid for 30 days. This offer also includes 10 mins local voice calls and unlimited on-net calls and SMSs.
The Smile TRUEUnlimited Premium plan allows customers to experience a TRUEUnlimited internet with "No Limit".
Designed to delight its subscribers, the UnlimitedPremium plan is believed to be "Nigeria's only TRUEUnlimited internet" and is available to customers on Smile's 4G LTE network for only N19,800.
The new campaigns; "Perfect Gift" and "TRUE UnlimitedPremium" are available in key Nigerian towns including Abuja, Asaba, Benin, Ibadan, Kaduna, Lagos, Onitsha, and Port-Harcourt.