Everything You Should Know About 2020 N-Power Recruitment
Whether you are employed or not, I know some of you are warming up for the next batch of N–Power which will take in 400,000 applicants. According to NPower social media handle,
"This week, the N-Power portal will re-open for registration. 400,000 beneficiaries will be taken from the application pool."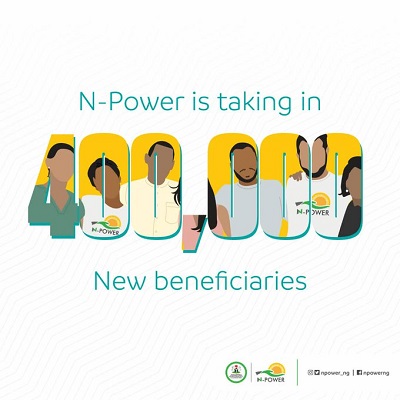 N-Power 2020
The online portal would be open to receive applications from June 26, 2020 and will provide a level playing field for all applicants.
Once applications are submitted, the Ministry will review submissions and publish a list of successful applicants. Past beneficiaries are not eligible to participate in the application process.
The N-Power program has enrolled over 450,000 beneficiaries thus far – 200,000 from Batch A which started in September 2016 and 300,000 from Batch B which kicked off in August 2018.
NPower Categories
POWER AGRO:
The Federal Government is engaging qualified young Nigerians of any discipline through the N Power Agro programme. N-Power Agro beneficiaries will start to function as intermediaries between research and farmers. They will operate as facilitators and communicators, helping farmers in their decision-making and ensuring that appropriate knowledge is implemented to obtain the best results on farms.
REQUIREMENT
Currently Unemployed
Graduate Degree (Bachelors or Higher National Diploma)
Must have completed the mandatory National Youth Service Corps Programme
Aged between-35
N-POWER HEALTH:
Programme participants would be trained to provide the following essential services:
→ Monitor health status to identify and solve community health problems.
→ Diagnose and investigate basic health problems and health hazards in individuals and the community.
→ Inform, educate, and empower people about health issues.
→ Mobilize community partnerships and action to identify and solve health problems.
→ Develop policies and plans that support individual and community health efforts.
→ Educate on laws, regulations and policies that protect health and ensure safety.
→ Link people to needed personal health services.
In addition, successful applicants will also benefit from a compulsory employability and entrepreneurship skills development programme.
REQUIREMENT
→ Currently unemployed
→ Must be a graduate (Bachelor's Degree or Higher National Diploma)
→ Must have completed the mandatory National Youth Service Corps Programme
→ Aged 18-35
→ Selection Preference Disciplines: Bachelor's degree or Higher National Diploma (HND)
N-POWER TEACH:
The N-Power Teach programme will engage qualified graduates for the benefit of basic education delivery in Nigeria. They are being deployed as teacher assistants in primary and secondary schools around Nigeria.
They will not replace the current teachers, but will work as support teachers across Nigeria, assisting with teaching, school management and other functions within the schools. They will also assist in taking basic education to children in marginalized communities.
REQUIREMENT
→Unemployed graduates
→Must be a graduate in any field or profession (Bachelors or Higher National Diploma)
→Must have completed the mandatory National Youth Service Corps Programme
→Ages 18-35
NPOWER TAX – The Federal Government seeks to encourage non-compliant and partially compliant taxpayers to come clean and declare and pay their appropriate tax due to the government.
The N-Power community tax liaison officers will have the following key responsibilities which will include answering online inquiries, customer management, creating awareness of tax compliance.
Tips to Get Ready
Get your BVN ready.
Ensure you are not an existing employee in any organization.
Application is online.
The portal will be open on June 26, 2020. We'll update this page once the portal is open on the stated date.