Infinix in the Process of Launching its First Smart TV
After the boom of smartphones, companies around the world are now focusing on the smart TV market. Although traditional TV OEMs are favored by customers in Western markets, Chinese smartphone manufacturers have occupied a place in developing countries over the past few years.
Now, because people can access the Internet at a cheaper price than before, it makes sense for companies to bring their IoT devices to market. One of the best ways is through smart TV because it connects the whole family with the rise of OTT platforms.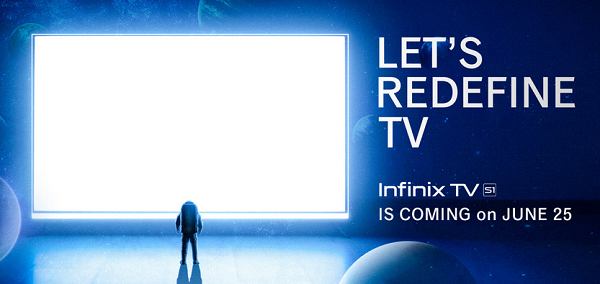 Xiaomi was one of the earliest smartphone manufacturers to enter the field of smart TV. It became very popular, especially in India, and became the country's largest smart TV brand in a short time. Globally, its market share in this area is 7%.
Now, Infinixmobility the brain behind the newly launched Infinix Note 7 is gearing up to launch its first-ever smartTV called Infinix TV S1.
No much information is disclosed about the specifications of the smartTV but being its first-ever smartTV, you should expect to see something that will wow you.
Expect to See
High brightness contrast
LED panel
Digital process for picture and audio
Support HD TV component signal input PC resolution supporting AV X 2/VGA X 1/HDMI X 2/USB X 2 Resolution: 1920*1080
Brightness 250cd/m2
Super slim up to 115.70mm
TV system: PAL/SECAM/NTSC
Sound system: B/G, D/K,
The Infinix Smart TV S1 is expected to be launched on June 25, then the price and the full specification will be unveiled.