You can Now Send and Receive Money Through WhatsApp if You Live in This Country
The WhatsApp payment system announced in 2018, was supposed to be launched late last year but was postponed. But you can now send and receive money through WhatsApp securely within your chat with family, friends, and businesses if you live in Brazil.
WhatsApp payment system will allow you to send money to friends and family over text. WhatsApp Payment is powered by Facebook Pay and will allow you to send money to friends and family effortlessly.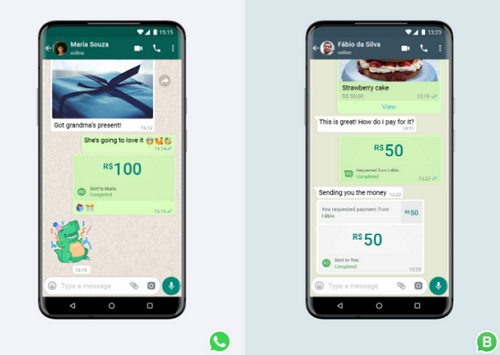 According to WhatsApp, the payment was built with security, and a six-digit PIN or fingerprint will be required before transactions can be completed. This is to prevent unauthorized transactions.
At the moment, WhatsApp payment is supported by Visa and Mastercard debit and credit cards from Banco de Brasil, Nubank, and Sicredi. WhatsApp also says it is working with Cielo, Brazil's leading payments processor, and has built an open model to make it easy for more partners to join in the future.
WhatsApp users in Brazil can now send money to friends and family or pay a business right from your chat 💸💸💸

pic.twitter.com/BwrcCq9CJW

— WhatsApp Inc. (@WhatsApp) June 15, 2020
The good news is that the payment via WhatsApp doesn't attract a charge when you send or receive money save for businesses that will have to pay a processing fee to receive payments from their customers.
Sending money or making a purchase on WhatsApp is free for people. Businesses will pay a processing fee to receive customer payments, similar to what they may already pay when accepting a credit card transaction.
The service is already rolling out to users and should arrive for everyone in the coming weeks.
No word yet on when the payment feature will roll out to more countries but we are hoping it will roll out to all countries soonest. Do you think this will be a better alternative to PayPal?