MTN eSIM Everything you need to know and How to Activate for Free
MTN has recently introduced MTN eSIM in Nigeria also known as embedded SIM. It allows you to use your smartphone without Sim card and you'll be able to receive and make calls normally.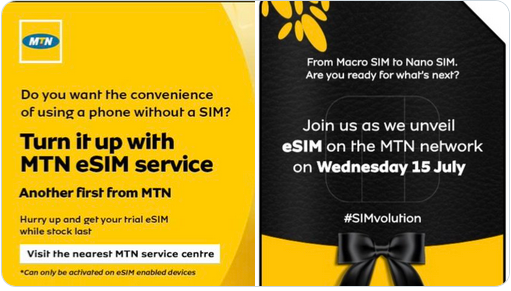 MTN eSIM Everything you need to know and How to Activate for Free
What is an eSIM?
An eSIM is an embedded SIM card that is built into the device and needs to be enabled by a mobile network to function as a second SIM. Unlike the physical SIM, you do not need to insert an eSIM into your phone as it is already built into your smartphone, device, or wearable.
Benefits of MTN eSIM
e-SIMs allow you to have more than one phone number associated with your smart device. They are particularly useful for people who want to manage personal and business lines.
The possibility of losing or damaging your SIM is reduced because it is built into your device.
You no longer have to deal with cutting SIM cards or finding adapters.
It is extremely convenient for frequent travelers, making it easier to switch between network operators.
According to MTN, the eSIM trial will run for one year and is open on a first come first served basis to a limited number of subscribers who own compatible devices.
Compatible Devices with MTN eSIM
Google Pixel 3, 3 XL
Pixel 4, 4 XL
Apple iPhone 11, 11 Pro, 11 Pro Max
iPhone XS, XS Max
iPhone XR
Samsung Samsung S20 Series
You can visit any MTN stores closest to you, an agent will check your device if it's available after which it will be set up on your device.
Those of you who have compatible devices, you'll need to go to MTN stores closest to you and perform a sim swap.