List of Nokia Devices to Get Android 11 Upgrade
Back in October 2020, the company tweeted the Android 11 road map for some eligible Nokia smartphones and deleted it. But today, a company staffer has now published a new roadmap in its forum which shows the smartphones that will be getting Android 11 and when.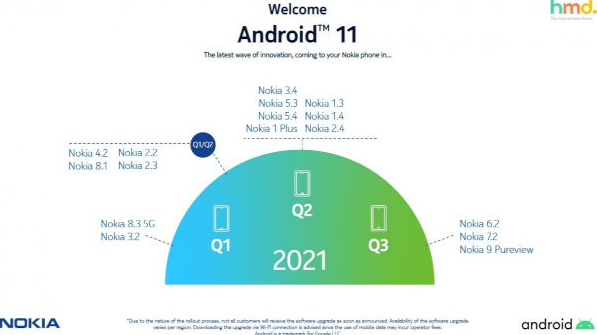 Nokia notes that due to the nature of update rollouts, not all customers will receive the updates immediately after launch.
Additionally, not all regions will receive them simultaneously, either. That said, this should give current Nokia users a better idea of when to expect Android 11 on their devices.
The Nokia 8.3 5G and Nokia 3.2 received the Android 11 update in Q1 2021. The 4.2, 2.2, 2.3, and 8.1 are next in line to receive the update. The Nokia 3.4, 5.3, 5.4, 1 Plus, 1.3, 1.4, and 2.4 will now receive the update in Q2 2021.
Finally, Nokia has earmarked Q3 2021 for the Nokia 6.2, 7.2, and 9 Pureview's update releases. In all, Nokia Mobile plans to update the above-listed smartphones to Android 11. Let's hope they stick to this roadmap.