How to Get Airtel Call Minutes and Data Offer Bonus 20GB Data for N3000, 40GB for N5000
Airtel Data Offer and Call Minutes Bonus are unquestionably the best deals available right now, and the company shows no signs of slowing down.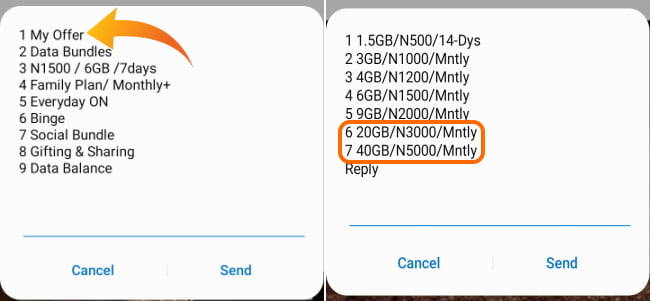 Airtel, one of Nigeria's largest and top mobile network service provider, provides competitive data plans and bonuses when compared to other networks the likes of MTN and Globacom (GLO NG).
The telecommunications network has continued to grow its footprint in Nigeria, and with their data package, they have a strong chance of topping the charts.
I believed the 6GB for N1500 and 9GB data offer for N2000 are not new to every one of us. However, the data volume of Airtel 16GB data for N3000 has been increased to 20GB data for that same amount.
I'm sure you guys are going to need more data to enjoy yourself during this Holiday season. So, Airtel is here with more data and more value, you can as well get a whole 40GB of internet data for just N5000!
All the aforementioned Airtel data offer comes with 30 days validity and works on all eligible smart devices and of course, it doesn't zap the data. Just make sure you deactivate needless applications that consume more of your data in the background.
How to Subscribe to any of the Airtel Data Offer
1. Simply dial *141# and then,
2. Choose 'My Offer' by replying with 1.

Online gamers, small and medium business owners, and individuals who use a lot of data can take advantage of Airtel's new data offer.
How to Check Your Airtel Data Offer Balance
1. Dial *140# to check your Airtel data balance.


How to Get Airtel Data offer and Call Minutes Bonus
This is a Family Plan / Monthly+, it is recommended for those who love 2 in 1 offer.


Family Plan All Nets Offers
You can get 10GB data + 100MINS and 100 SMS for N3,000
Also, you can get 20GB data + 300MINS and 100 SMS for N5,000
How to subscribe to any of these Airtel 2 in 1 Offer
1. Simply dial *141# and then,

2. Choose Family Plan / Monthly+ by replying with 4.
3. Then, select Family Plan All Nets by replying with 2.


Family Data Plan
With this offer, you can get 20GB data + 50MINS and 100 SMS for N5,000
Also, you can get 50GB data + 50MINS and 100 SMS for N10,000