List of Samsung Smartphones that will Receive Android 12 Update
As Android 12 is still a new version of the operating system, Samsung is releasing it for its Galaxy smartphones less than a month after Google's Pixel phones. In the following months, more devices will be upgraded, and Samsung has verified a preliminary list of those that will be updated.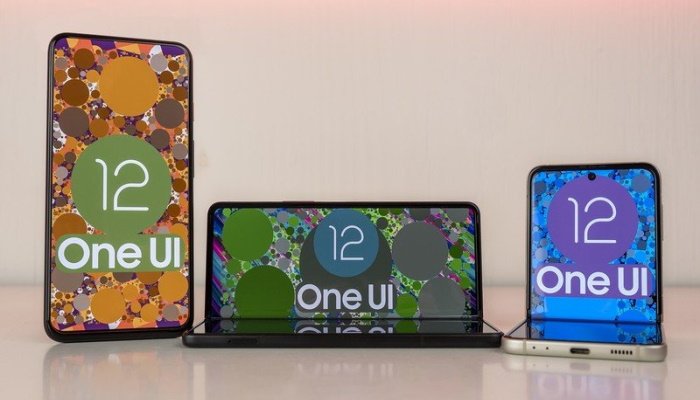 On Samsung Galaxy smartphones, what's new in Android 12?
On a visual level, Android 12 is one of the platform's greatest improvements ever, yet the majority of the design changes are only available on Google Pixel smartphones. In One UI 4.0, Samsung, on the other hand, has made certain adjustments to the device.
Android 12 on Samsung smartphones, like Pixels, requires all widgets to have rounded corners and introduces a new design language for some of them. Some Samsung stock applications have been upgraded as well, with a new design language, and Android 12's Dynamic Color feature works well. Colors from your background can be applied to system accents and a variety of apps using this feature.
In Android 12, there are also a number of privacy improvements, including new indications that reveal whether the microphone or camera is in use, even if it's in the background. Users can give applications an estimated location rather than a specific one, and there's a Privacy Dashboard in Settings that shows which apps are utilizing critical permissions.
Samsung devices confirmed to Receive Android 12
Which devices will be upgraded to Android 12? The list of Samsung Galaxy smartphones and tablets that will be upgraded eventually is rather large, and it includes almost every device produced in the last two years, as well as flagships from even further back. Samsung has verified the following devices for Android 12 upgrades thus far.
The list begins with Samsung's Galaxy S21 series, which has already received its upgrade in the United States, on carriers, and in other parts of the world. In the first few months of 2022, Samsung will update the entire Galaxy S20 and Galaxy S10 ranges to Android 12.
In November 2021, Samsung released a beta version of their Android 12 update for the Galaxy S20, with the devices receiving the update in January and February 2022.
Galaxy S21 — Available now
Galaxy S21+ — Available now
Galaxy S21 Ultra — Available now
Galaxy S20 — Beta available now
Galaxy S20+ — Beta available now
Galaxy S20 Ultra — Beta available now
Galaxy S20 FE
Galaxy S10
Galaxy S10e
Galaxy S10+
Galaxy S10 5G
The bolded devices are those that have recently been added to Samsung's official list.
Galaxy Note:
Samsung's Galaxy Note lineup, which appears to be on its way out for real, will only receive Android 12 updates on five smartphones. This applies to both the Galaxy Note 20 and Galaxy Note 10 series of smartphones.
Galaxy Note 20 — Beta available now
Galaxy Note 20 Ultra — Beta available now
Galaxy Note 10
Galaxy Note 10+
Galaxy Note 10 5G
Galaxy Foldables:
Samsung's foldable lineup is expanding, and the whole portfolio is eligible for the Android 12 and One UI 4.0 updates. As of November, Samsung has an active beta program for the Galaxy Z Fold 3 and Flip 3, with the update expected to arrive before the end of the year.
Galaxy Z Fold 3 — Beta available now
Galaxy Z Fold 2
Galaxy Fold
Galaxy Z Flip 3 — Beta available now
Galaxy Z Flip 5G
Galaxy Z Flip
Galaxy A
Samsung is introducing Android 12 to a large number of its popular Galaxy A series devices as part of its ongoing effort on updates. Samsung has verified that the update will be available for 15 Galaxy A smartphones so far, with the majority of those confirmed as of November 16.
Galaxy A82 5G
Galaxy A72
Galaxy A52
Galaxy A52 5G
Galaxy A52s 5G
Galaxy A42 5G
Galaxy A32 5G
Galaxy A71 5G
Galaxy A51 5G
Galaxy A51
Galaxy A21
Galaxy A12
Galaxy A02s
Galaxy A01
Galaxy A11
Galaxy Tab:
Tablets aren't a huge thing in the Android world, and finding one with strong support is challenging. Samsung, on the other hand, is sticking by the majority of its Android tablets, with Android 12 set to arrive on eight more in the coming months.
Galaxy Tab S7
Galaxy Tab S7+
Galaxy Tab S7 FE 5G
Galaxy Tab S6 Lite
Galaxy Tab S6
Galaxy Tab Active 3
Galaxy Tab A7 (2020)
Galaxy Tab A7 Lite
When will Android 12 be ready for my Samsung device?
Samsung released an explicit timeframe for when Android 12 upgrades would be available on various Galaxy devices not long after commencing the rollout to the Galaxy S21.
The Galaxy Z Fold 3 and Galaxy Z Flip 3 are the next in line, with a December release date planned by Samsung. Since the program began, we've seen many beta upgrades for these devices, indicating that Samsung is near to releasing them.
According to the plan, the majority of Samsung's smartphones will be upgrading to Android 12 in January and February of next year, with previous-generation flagships such as the Galaxy S20 and Galaxy S10 series receiving updates in those months. One peculiarity is that Samsung has stated that the regular Galaxy S20 would not be upgraded until February, while the rest of the series will be updated in January.
Also, Samsung expects to push out Android 12 over the following eight months, with certain Galaxy A series smartphones not receiving the upgrade until August of next year. Of course, if the development goes well, things may go faster.
Keep in mind that these dates may change depending on your location, carrier, and other reasons.
December 2021
Galaxy Z Fold 3
Galaxy Z Flip 3
January 2022
Galaxy Z Fold 2
Galaxy Z Flip
Galaxy Z Flip 5G
Galaxy S20+/S20 Ultra/S20 FE
Galaxy Note 20/Ultra
Galaxy Note 10/10+/10+ 5G
Galaxy Fold
February 2022
Galaxy A52 5G
Galaxy S20
Galaxy S10 5G
Galaxy S10
Galaxy S10e
Galaxy S10+
Galaxy S10 Lite
Galaxy Tab S7
Galaxy Tab S7+
Galaxy Tab S7+ 5G
March 2022
April 2022
Galaxy A51 5G
Galaxy A51
Galaxy A71 5G
Galaxy Tab S7 FE 5G
Galaxy Tab S6 Lite
May 2022
Galaxy Tab S6
Galaxy Tab Active 3
Galaxy Tab A7 (2020)
Galaxy A42 5G
Galaxy A32 5G
June 2022
Galaxy Tab A7 Lite
Galaxy XCover Pro
July 2022
August 2022
Galaxy A02s
Galaxy A01
Galaxy A11