How to Remove Lock Screen Ads on Samsung Galaxy Smartphone
Samsung is undoubtedly the world's most popular and leading smartphone manufacturer. It offers a wide range of products in the market – Samsung is currently the only company that makes smartphone models for every budget.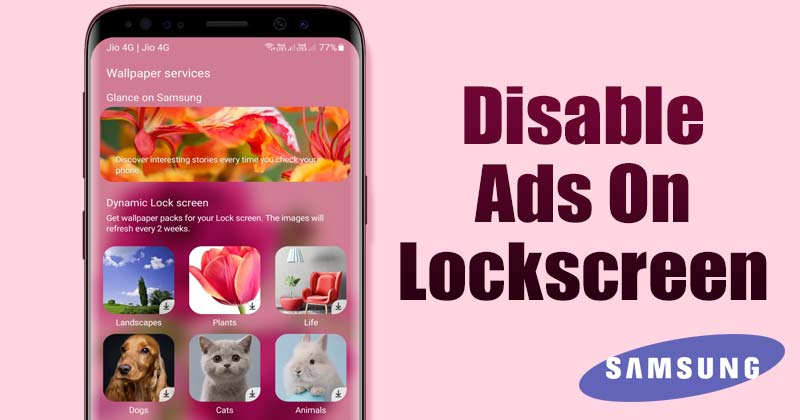 You will find Samsung models for every price range. If we talk about the mid-range series of Samsung smartphones like the A-Series, M-series, F-series, they have all features that users needs and come with Samsung's own One UI interface.
However, the problem with Samsung's low or mid-end smartphones is that they come with lock screen services that display ads on the lock screen. Samsung shows ads on the lock screen to cover up the cost of the device that was made available at affordable price tags.
For example, if you are using a Samsung Galaxy A series or M Series smartphone, Samsung enables Glance Lock screen service to show you ads on the lock screen. Even though the lock screen ads don't irritate you, they will surely drain your battery life.
Steps on How to Remove Lock Screen Ads on Samsung Galaxy Smartphones
You can manually disable the Samsung Glance Lock screen service to remove ads from the lock screen and preserve battery life. Hence, in this article, we will disable the Lock screen services or ads on the Samsung Galaxy device. Let's check out.
1. First of all, open the Settings app on your Samsung Galaxy Smartphone.
2. On the Settings page, scroll down and tap on the Lock Screen option,
3. On the Lock Screen settings, scroll down and tap on the Wallpaper services.
4. On the Wallpaper Services page, you will find multiple lock screen services. By default, Samsung will use the Glance on Samsung option.
5. To disable ads on the lock screen, you need to select None. Next, tap on the Apply button.
That's it! You are done. This will disable the Glance on Samsung Lock screen service on your device. You will no longer see ads on your lock screen. However, removing the Glance on Samsung option will also remove the wallpapers from your Samsung Galaxy device's lock screen.
Other Ways to Remove Ads on Android?
Usually, Ads don't appear everywhere on Android; they mostly appear on the apps you use. You can remove ads from apps by purchasing the premium version.

However, if you don't want to purchase the premium version of apps, you can set up AdGuard DNS on your Android smartphone. AdGuard DNS won't remove all ads from your Android device, but it will indeed remove the most annoying one.

Alternatively, you can use VPN apps for Android to get rid of ads from websites and apps. However, do note that not every VPN app comes with an ad-blocking functionality. So, read the app store description of a VPN before installing a VPN app.