FG Launches an App That Allows You Monitor Gov't Project
The FG has launched an app called EyeMark, and it allows you to monitor and evaluate capital projects in real time. In order words, the app enables citizens to track government projects in real time.
Eyemark is an application that provides unimpeded access to information on stakeholders including contract terms and contractors.
The president stated that the innovation would help to forestall the practice of abandoning projects as all stakeholders such as the communities, Civil Society Organisations (CSOs), contractors, Ministries, Departments and Agencies (MDAs) and citizens would continually interact on one platform.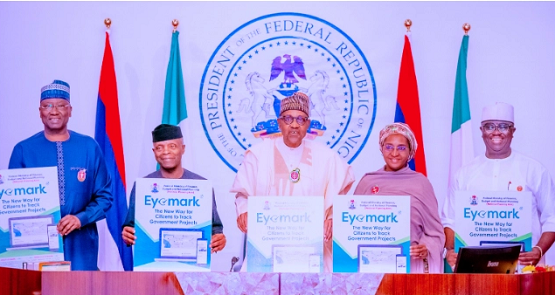 The Eyemark would provide a regular update on the status of capital projects across the country through bottom-up interactive processes.
The application would also be fully involved at every stage including knowing the cost, structure, benefit, and framework for maintenance after completion.
"The Eyemark application tackles the two major constraints we have faced as a country in our monitoring and evaluation efforts.
"Eyemark introduces a digital approach to monitoring and evaluation in the Federal Government that gives MDAs the ability to harness geospatial and project implementation data on a continuous basis.
"Furthermore, the constraint of limited monitoring and evaluation personnel is addressed by utilising a bottom-up approach through crowdsourcing geotagged data from Nigerians in every part of the country.
"With the ability for citizens to give reviews and feedback in real-time on projects around them, we are closing the existing gaps and promoting participation in governance."