Download Dream League Soccer 2024 (DLS 24) Mod Apk 13.0.0
Download Dream League Soccer 2024 (DLS 24 Mod Apk) for Android. This latest DLS 2024 Mod features the latest player transfer update, unlimited coins, new kits, and so on. In this post, you will know all the features of the game, the download link, and how to install and play like a pro.
In the DLS 24 game, there are 5 substitutes to make in a single match plus an extra player when the match enters extra time. This is one of the best features of the game. Though, it's also available in the DLS 23 version.
DLS 24 is one of the best modded games for Android. This is because of the amazing features that it contains. For instance, all the stadiums are updated. All the latest 2023/2024 player transfers for every club are updated.
This modded game comes with a profile.dat file. So you will enjoy Dream League Soccer cheat to win against your opponents, especially in the Dream League Online matches.
In order words, you don't have to pay real money to get coins, diamonds, gems, upgrade your stadium and players, and so on.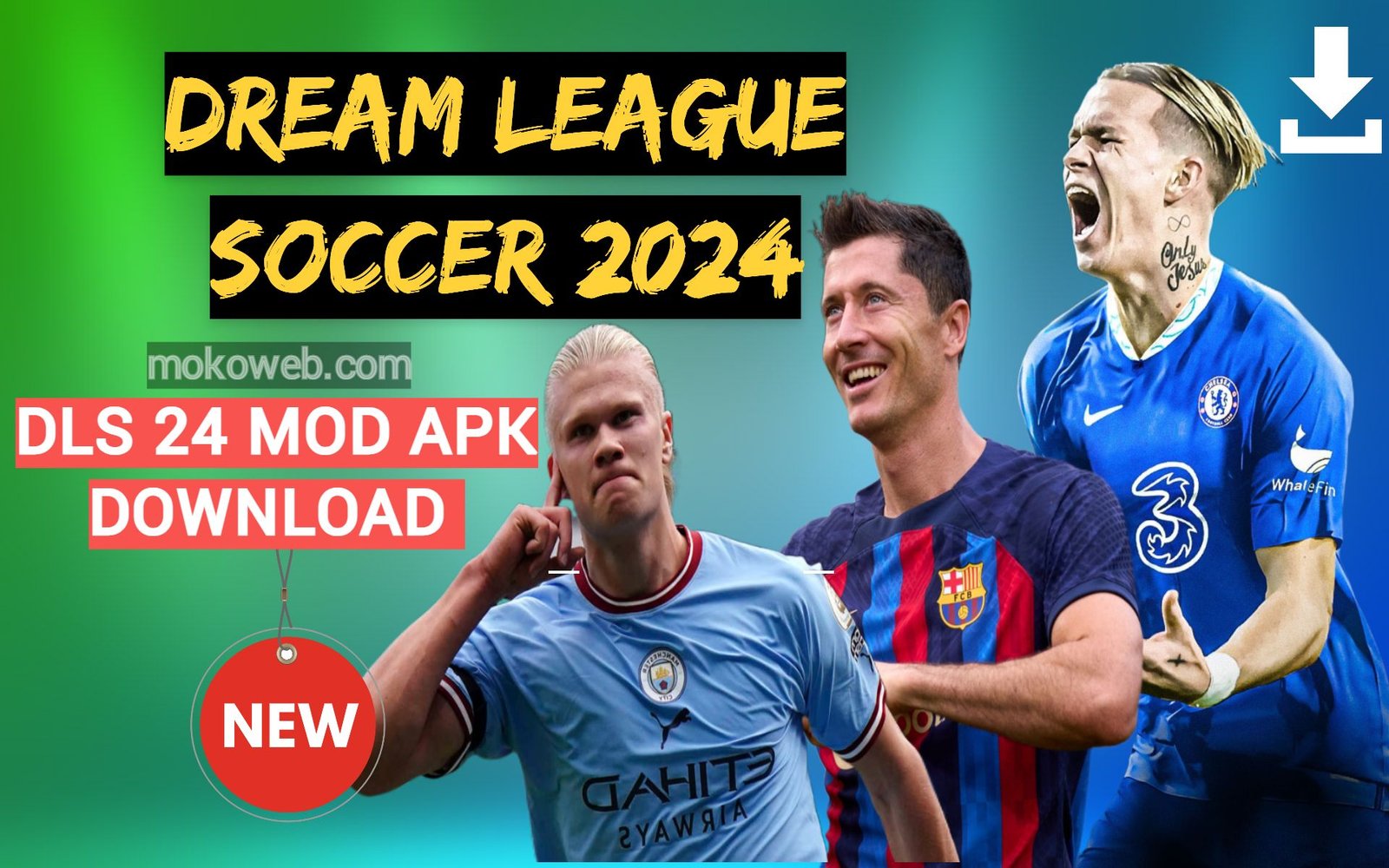 ABOUT DLS 24
Dream League Soccer 2024 is a football management game developed by First Touch Games Ltd. It is available on mobile for both Android and iOS devices.
The modded version of the game is remodded by enthusiastic game developers who derive passion from modifying games and adding new features even before the original creators add them officially.
As for DLS 2024 Mod Apk, all the game items are unlocked. You buy any superstar player for free. You can also upgrade your players to 100% ratings. Additionally, you can heal injured players and get all of them healthy and fit.
The gameplay is highly improved from the previous version of the game. There is now in-game tactics switch. With just a tap, you can switch from massive attack to massive defense or vice versa. So you don't have to pause the game to tweak your tactics anymore except for changing a formation.
Players replicate their real-life playing style in the game. For example, Bukayo Saka of Arsenal players more direct football and scores more goals now in the game.
Also, Erling Haaland is a beast to play against in the game as he outmuscles defenders and scores goals with ease. Other highly improved players in DLS 24 game includes Nkunku, Enzo Fernandez, Gabriel Martinelli, Rashford, Thomas Pattey, Serge Gnabry, Lautaro Martinez, Amine Harit, and so on.
Dream League Soccer 2024 is an offline and offline game that supports multiplayer mode. It even has a multiplayer mode with in-game chat features.
DLS 24 RELEASE DATE
Dream League Soccer 2024 will be released on November 30, 2023, globally, but the rollout will be in phases. The official DLS 24 cover and trailer are expected to be released before the main game is launched officially.
But while you wait for the official version to be released, why not download the DLS 24 modded version from this post and be among the first people to enjoy the amazing new features?
DLS 24 GAME DETAILS
App Title DLS 24
App Size 500MB
Category Sports, football, soccer
Version 13.0.0
Developer First Touch Games Ltd. Mod
O.S. Android 5.0 and above
Coins Free Unlimited Cheat
Updated 14 August, 2023
Price Free
Mod Yes
Downloads 100,053+
License FIFPro
DOWNLOAD DREAM LEAGUE SOCCER 2024 MOD APK
Download DLS 24 Apk
HOW TO INSTALL DLS 24 ON YOUR ANDROID
Tap the download button above to download the game to your phone.
Locate the downloaded game file (it can be found inside the "download folder").
Then, tap on it to start the installation.
After successful installation, you will see the game icon in the app menu.
Tap on the DLS 24 icon to load and grant all the necessary permissions
Then start playing the game.
WHAT'S NEW
Below are some new features available in the game:
Video Assistant Referee technology is now integrated into the game.
5 player substitutions per match
Quick in-game tactics switch.
Indonesian League is included in DLS 24
Improved stadium and realistic pitches
New player positioning and AI
Over 10,000 FIFPro players
Latest player transfers for all clubs
More flexible formations to choose from
Dynamic tactics to use on the go
Premium season pass with more rewards
Improved Dream League Live levels
Quick in-game tactics change
New club Jerseys and kits updated
New data for the 23/24 season
Unlock DLS VIP Tall players.
Improved players health
More tournaments and competitions
And much more
DLS 2024 LATEST PLAYER TRANSFER UPDATE
Here are some of the latest player transfers that are reflected in the game.
Moises Caicedo to Chelsea
Nkunku to Chelsea
Jackson to Chelsea
Enzo Fernandez to Chelsea
Kai Havertz to Arsenal
Mason Mount to Man United
Jude Bellingham to Real Madrid
Gundogan to Barcelona
Anthony Gordon to Newcastle United
Weston McKennie to Juventus
Mac Allister to Liverpool
Lionel Messi to Inter Miami
C Ronaldo to Al-Nassr FC
Marcel Sabitzer to Manchester United
Ngolo Kante to Al Ittihad
…and lots more
FAQ
Here are some frequently asked questions about the game:

1: WHAT IS DREAM LEAGUE SOCCER?
Dream League Soccer is a mobile game, that offers the experience of building and managing your own soccer team. Participate in online/offline tournaments and challenge other teams in friendly matches.

2: WHAT'S NEW IN DLS 24?
DLS 24 comes packed with exceptional features, including 5 substitutions per match, better graphics, new formations/tactics, new stadiums, and more.

3. HOW DO I GET DLS 24 MOD?
You can download DLS 24 Mod from here on mokoweb.

4. IS DLS 24 FREE?
Yes, DLS 24 is free to download and play. However, there are in-app purchases available if you want to upgrade your team. This does not apply to the modded version.

5. WHAT DEVICES ARE COMPATIBLE WITH DLS 24?
DLS 24 is compatible with iOS and Android devices. You can also play DLS 24 on a Windows PC using an Emulator like BlueStacks.

6. HOW DO I START PLAYING DREAM LEAGUE SOCCER 2024?
After downloading and installing the game, launch it and create your team. Then, start competing in tournaments and matches to earn coins and upgrade your team.

7. WHAT ARE THE REQUIREMENTS TO PLAY DREAM LEAGUE SOCCER 2024?
DLS 24 requires an iOS device running iOS 8.0 or later, or an Android device running Android 7.0 or later.

8. HOW DO I EARN COINS IN DREAM LEAGUE SOCCER 2024?
The ways to earn coins in DLS 24 include; winning games, watching ads videos, and buying coins with money. Another method is simply to get DLS 24 modded version.

9. HOW DO I UPGRADE MY TEAM IN DLS 24?
To upgrade your team in Dream League Soccer 2024, you will need to use coins to purchase new players or upgrade existing ones. You can also buy coin packs through the in-app purchase system to get a discount on coins. Alternatively, get DLS 24 Mod!

10. I'M HAVING PROBLEMS WITH DLS 24, WHAT CAN I DO?
If you're having problems with DLS 24, you can contact customer support for help.
OLDER VERSIONS
Below are the previous versions of the game.