FIFA 24 Mod Apk Obb Data (FIFA 24 Mobile 2024) Download
Download FIFA 24 Mod Apk + OBB Data for Android: FIFA Mobile 2024 apk features the most recent players transfer, manager mode, UEFA Champions League football, Career mode, and enhanced gameplay.
FIFA 24 Mod was initially developed by EA Sports but modified by devoted game modders who added more new features to the game. This is the modded game that plays offline but the original 2024 version is now rebranded as "EA Sports FC 24".
FIFA 24 MOBILE
FIFA 24 mod is an offline football game that supports multiplayer mode, league football, career mode, cup tournaments, and so on. Enjoy the delights of real soccer with the FIFA 24 mobile game for Android.
Play the latest version of FIFA Mobile with incredible graphics and gameplay. Also, play with your favorite players and teams while competing in all the major leagues and cups across the world.
FIFA 24 RELEASE DATE
The official FIFA 24 successor – EA Sports FC 24 will be released on September 29, 2023. This will include the trailer and cover. The initial access to the game is expected to start on September 27, 2023, across several parts of the world.
So, while you wait for the official version to be launched by EA Sports, why not download and play the modded FIFA 24 version here that packs all the new features you would expect to see in the regular version?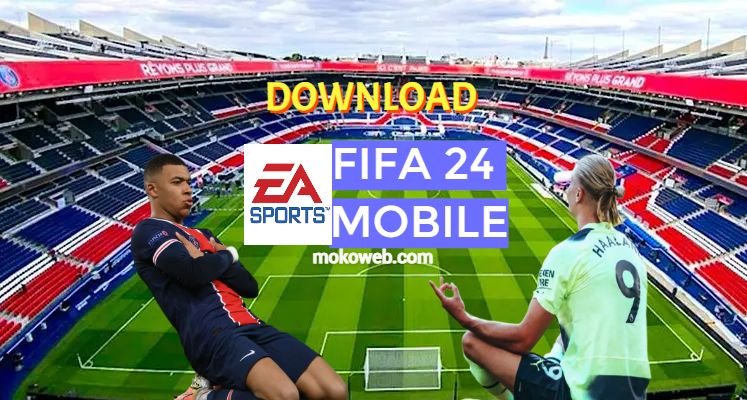 FIFA 24 MOD
The modified version of FIFA 24 Mobile is reached with so many new features. Because it's an offline game, it requires no internet or Wi-Fi to play. FIFA 24 hack gives you unlimited coins and all paid in-game items are unlocked. Above all, downloading and installing the game on your phone is secure and safe.
This modded version of FIFA 14 mod FIFA 24 contains all the playing modes and features like Manager mode, Cups, Tournaments, Ultimate Team, Quick Match, FifPro Licensing, etc. You will really enjoy the game, trust me.
It's a good alternative to PES 24 Mod.
Keep reading below to catch more info about the game and the download link.
Updated are the most recent winter and summer transfers from the top leagues in Europe, America, Asia, and Africa. For example, Cole Palmer is in Chelsea, Sofyan Amrabat is in Man United, Moises Caicedo is in Chelsea, Erling Haaland is in Man City, Raheem Sterling is in Chelsea, Sadio Mane is in Bayern Munich, Darwin Nunez is in Liverpool, Rudiger is in Real Madrid, Nkunku is in Chelsea, Mason Mount is in Man U, Kai Havertz in Arsenal, Lewandowski in Barcelona and so on.

KITS IN FIFA 2024

The most impressive thing about FIFA 24 Mod is the new kits for each club. All the featured clubs are using their respective latest kits and original logos plus sponsors' logos and names. The kits are so beautiful and look so realistic.

Moreso, the player faces now look more real in this year's edition. It's a huge improvement from FIFA 23 Mod where the faces of some players look awkward.
FIFA 24 MOBILE MANAGER MODE
You may now manage your team without the internet because the Manager mode works offline. In the standard version, this is not possible. But in this modded version, everything is simplified for your convenience.
Develop your ultimate team by picking your captain and then building your team by upgrading its facilities and signing players from the transfer window. You can also play with other players across the globe (but this is online) in multiplayer mode.
FIFA 24 MOD INFORMATION
Name FIFA 24 Mod
Version 4.1
Category Sports, Football, Soccer
Developer EA Sports
Downloads 750,000+
App Size 1.2GB
Updated October 6, 2023
Released September 30, 2023
Platform Android 6.0+
In-App Purchases No
Price Free
WHAT'S NEW
Latest players transfers
New cover screen
Updated team kits
2023 / 2024 season update
Bug fixes
Continue Reading to see the latest FIFA Mobile 2024 download link.
MINIMUM REQUIREMENTS
1GB RAM or higher
3GB Free Space or higher
Android OS 6.0 or higher
Note that the games play better if your phone has higher specifications.
DOWNLOAD FIFA 24 MOD APK OBB DATA FOR ANDROID
FIFA 24 APK
OBB FIFA 24
DATA FIFA 2024
NOTE:
For a successful installation and flawless gameplay, you need to download all the files provided above.
The video below is the FIFA 24 Mod gameplay on Android. Also, in this video, you will see the installation guide.
HOW TO INSTALL FIFA 2024 MOD ON ANDROID
Download all FIFA 24 apk files from the links above.
Go to Menu > Settings > Security and enable installation from "Unknown Sources".
Extract the FIFA 24 Mod Apk data files using the Zarchiver app inside the same folder.
Move the extracted data file to this path Android>Data Folder in your device storage.
Extract the "FIFA 24 Obb file" to this path Android>OBB on your phone memory.
Then find the "FIFA 24 APK" file you downloaded and click on it.
Next, tap on "Install"
Now open the game after installation to enjoy the all-new FIFA 2024 Mobile game.
If you are still finding it challenging to install the game, then see my post on how to install games with OBB Data files. Once you finish reading that post, you will find it easy to install any app that comes with OBB files including this modded FIFA game for Android.
HOW TO ACTIVATE ENGLISH COMMENTARY
The comments is disabled by default, but there is a workaround. All you have to do is download the language-specific commentary pack (s).

There are five different languages available. These languages include Italian, German, French, Spanish, and English. The game commentary will be in that specific language once it has been downloaded and chosen. The steps are outlined below.
Open the game setting
Select Audio
Tap on Speech
Select your Preferred Language
Tap download commentary
Audio level settings, display settings, and control settings are the other settings available in the game.
Meanwhile, if you prefer the PSP version of the game, you can simply go to our recent post on FIFA 24 PPSSPP.
Also, if you prefer playing the newly rebranded version with the most recent updates, then download EA Sports FC 24 Apk. It's among the trending football games right now.
FEATURES OF FIFA MOBILE 24 MOD
Works offline Mode
PS 5 Camera
New PS4 graphics
Latest kits for each team updated
Updated player transfers.
Manager mode is working
High-definition graphics.
Improved gameplay.
Pitch modification.
Addition of new Stadium.
Improved User Interface
Fascinating season tournament mode.
Updated real league logo for Russian, Portugal League, English League, Spanish league, and Italian league.
Real country logos
New UEFA ball available
Champions League football
Europa competition
French League 1
German Bundesliga
Italian Seria A
English Premier League
Crystal clear commentary
Updated FIFA player ratings
SOME RECENTLY UPDATED PLAYER TRANSFERS
Christopher Nkunku – Chelsea
Raheem Sterling – Chelsea
Moises Caicedo – Chelsea
Fofana – Chelsea
Kai Havertz – Arsenal
Jude Bellingham – Real Madrid
Erling Haaland – Man City
Darwin Nunez – Liverpool
Gundogan – Barcelona
Jules Kounde – Barcelona
Sadio Mane – Bayern Munich
Mason Mount – Manchester United
Ben White – Arsenal
Achraf Hakimi – PSG
C Ronaldo – Al-Nassr FC
Messi – Inter Miami
etc.
LATEST FIFA 2024 ULTIMATE TEAM GAME MODES
Below are the FUT 24 eight game modes:
Squad Battles;
Division Rivals;
FUT Champions;
Friendlies;
FUT Draft;
Squad Building Challenges;
Objectives;
FIFA World Cup Expansion.
OTHER FIFA 2024 GAME MODES
FIFA Ultimate Team
Career Mode
VOLTA Football
UEFA Champions League
Pro Clubs
Kick Off
Tournaments
Training Centre
Practice Arena
Online Seasons
Co-op Seasons
Online Friendlies
Qatar 2022 FIFA World Cup
FIFA 24 GAMEPLAY SCREENSHOTS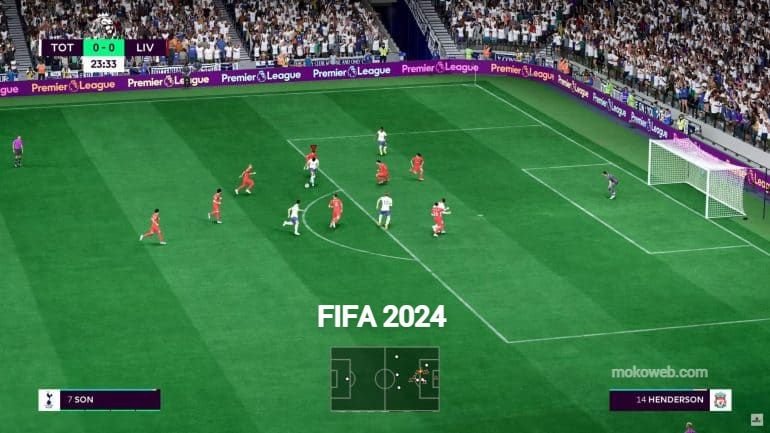 OLDER VERSIONS OF THE GAME
FIFA 23
FIFA 22
FIFA 21
FIFA 20
FIFA 19
FIFA 18
FIFA 17
FIFA 16
FIFA 15
FIFA 14
FIFA 13
FIFA 12
FIFA 11
FIFA 10
FIFA 09
etc


MORE FOOTBALL GAMES TO DOWNLOAD
Dream League Soccer 2023
First Touch Soccer 2023
PES 23 Mod
Winning Eleven 2023
FIFA 16 Mod 2023
First Touch Soccer 2024
Dream League Soccer 2024
CONCLUSION
The latest FIFA 24 Apk game is one of the most addictive Android games to play this year. So if you are looking for a heavily updated football game to play and entertain yourself, then, FIFA 24 Mobile is absolutely one of them. Try it out and see for yourself.
Let's share our experiences about the game via the comments box below. Happy gaming.