Facebook Instant Video | Watch Videos Without Using Your Mobile Data
We all know very well that whenever we open the social networking site Facebook from any device we simply spend a lot of data. And the most worst thing is that this is a real danger if we want to have data until the end of the month.
When you access Facebook, whether, from the computer or mobile, it is difficult not to accede to the temptation to see some of the videos that it propose from the different pages and profiles.
The problem is that when we access from a device we spend a lot of data. And this is a real danger, if we want to have data until the end of the month.
Now it seems that the social network giant Facebook is testing a new feature, which would allow users to enjoy these videos, but without spending data. They have called it Instant Videos which will simply download different videos from Facebook while you are connected to a WiFi network.
That way, when the app detects that you have a stable connection, the videos will automatically load. Then, when you access them, they will be reproduced without having to abuse your data quota.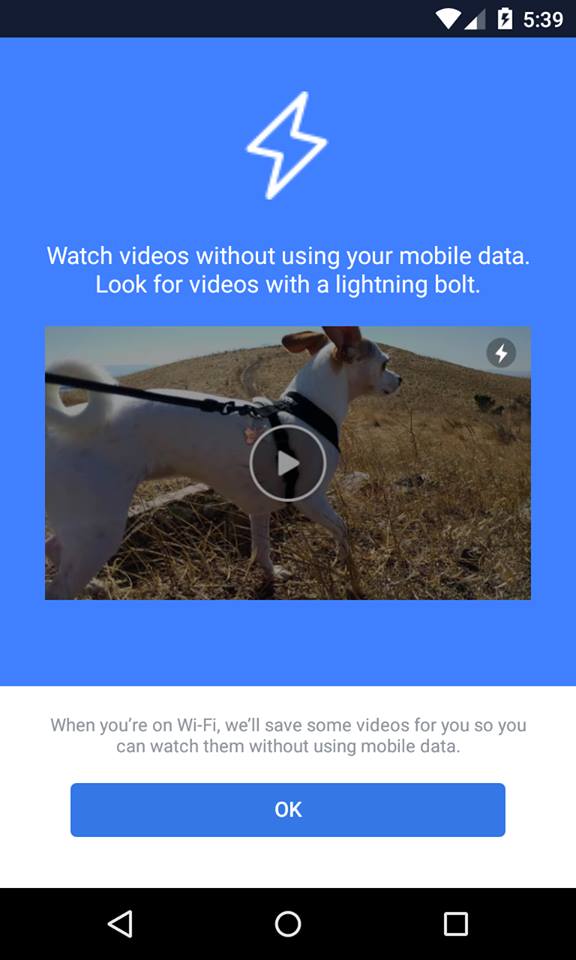 The new Facebook "Instant Videos"
The social network Facebook dubbed it as Instant Videos, but beware, that we are not before an operative option. Nothing is further from reality. The discovery comes from the hand of journalist Matt Navarra of The Next Web. So it is still an experimental feature.
Instant videos provide different benefits for users. But also for Facebook, whose greatest desire is to quickly and nimbly provide videos that may be interesting for users. One of the most important improvements of this new feature will be that the users can access in a fast and agile way to the videos.
Although initially a hypothesis, the social network Facebook confirmed to Techcrunch that the feature is being tested. Those responsible for the social network have explained that, for now, the feature has been implemented in a very small portion of users who are using Facebook for Android.
At the moment it is not clear if this feature will soon become extensible to the rest of Android users or not. But, if so happens then, logically, it will reach the owners of the devices with iOS as well. The most logical thing is that yes, but no date has been stipulated.
Nor it has been indicated if these videos will appear highlighted in any way, at the top of the news page or they will simply remain on its site.