Opera Browser Responds to Cryptocurrency Mining on Smartphone by Adding Protection
It is no longer news that individual have started the process of mining cryptocurrency using user's CPU power and it is becoming a widespread practice. Opera Browser for Android and Opera Mini wants to put an end to this so they have started by blocking mining scripts from websites.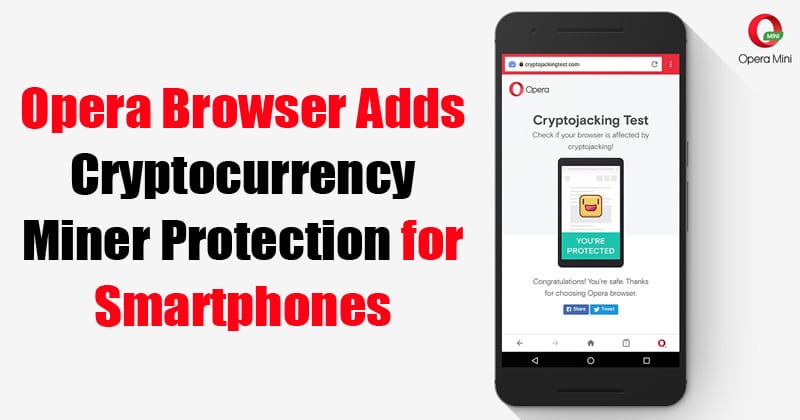 If you remember a few months ago we have seen Opera released a web browser that natively blocks web pages that mines cryptocurrency without user permission. Opera introduced the feature on its Opera 50 browser.
However, there are many users all over the world who wants the same feature on the mobile version. So, the good thing is that Opera for Android and Opera Mini will now block mining scripts from websites.
Well, the process of mining cryptocurrency using user's CPU power is now a widespread practice. Smart guys use multiple methods to mine cryptocurrency. Mobile devices are also affected, with an aggravating factor. Cryptocurrency mining using phone's processor can drain the battery or cause the smartphone to overheat.
According to the reports from
Opera Software
, there are over 3 million crypto-scripting sites available all over the web. Most of the time, a user doesn't realize that there is something consuming more battery and processing power of the device than it should.
If you want to see if your device is impacted by any unwanted crypto mining script, then you just need to go to www(dot)cryptojackingtest.com on your mobile browser to see if your device is impacted by any crypto mining script. You can even use the site www(dot)cryptojackingtest(dot)com to check other web browsers apart from Opera.
Well, in Opera Mini and Opera for Android, protection against crypto jacking is enabled when the ad blocker is enabled via browser settings. Opera browser uses the same method to block malicious scripts like it does to block invasive ads.
The latest version of Opera browser can be downloaded from Google Play Store. If you're already using the browser, then you need to update it via Google Play Store.
So, what do you think about this? Share your views in the comment box below.