Introducing Facebook Unsend Message Feature
Facebook Unsend Message Feature was long overdue even though it started rolling out to some countries late last year and now its available for all countries.
Facebook has come out with a feature that lets you delete messages from a conversation after you've sent them, as previously spotted. So, in case you send the wrong message to the wrong person in messenger, you can now remove it within 10 minutes
How Does Facebook Unsend Message Feature Work?
Just like what we have on the popular instant messenger
WhatsApp
, Facebook "Unsend message" gives you the option to delete any message that you mistakenly sent, you'll have to tap and hold on the message and choose the "Remove for Everyone" option.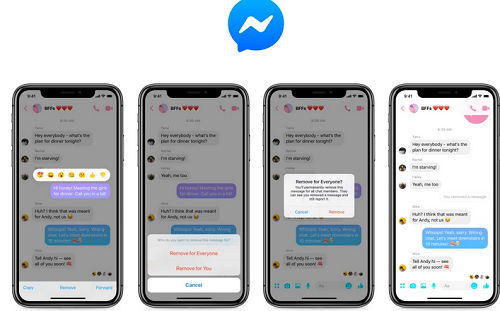 You can delete text, group chats, photos, videos, links and more — within 10 minutes of sending. You can still delete any message on just your side of the conversation, but only messages you sent can be removed from their recipients.
Facebook believe that people who delete messages sent by mistake do it in less than a minute, hence the 10 minute time window.
Update your Facebook Messenger app to the latest and the "Unsend Feature" will be live.