Smile 100% bonus New Data Offer for 3 months
Smile one of the popular 4G LTE telecommunications service provider in West Africa, has announced its new device and bonus offers to reward their customers.
The proposed offers are affordable depending on who is using it, thus making it easier for customers to enjoy the benefits that come with having a SuperFast and reliable Internet connection.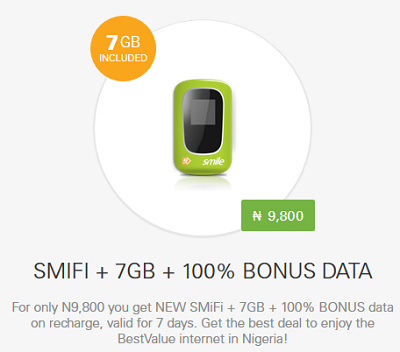 Smile customers will upon purchase of a SMiFi or Router Starter Pack get 100% bonus data on recharge for three consecutive months, free unlimited on net calls and 10 minutes off net calls.
They are at liberty to get 7GB plus SMiFi or Unlimited Premium plan plus Router and 100% bonus. This gives customers the ability to create their own hotspot, stream, download and connect with family and friends. Prices start from as low as N9, 800. The SMiFi offer is available in all cities of operation.
This offer is only available if you are buying the new SMiFi router.