How to Send, Receive and Earn Bitcoin on WhatsApp
A swiss-based crypto messaging platform called Lite.IM developed a simple tool to receive and send bitcoin via WhatsApp. No need to download any wallet or login to any site. Just within your WhatsApp messaging platform, you can send and receive bitcoin.
To begin, just add Lite.IM WhatsApp bot and proceed with the following instructions to start earning and using virtual cryptocurrencies on the app.
How to Send, Receive and Earn Bitcoin on WhatsApp
To begin, click here
Choose your language
Set a password
You are good to go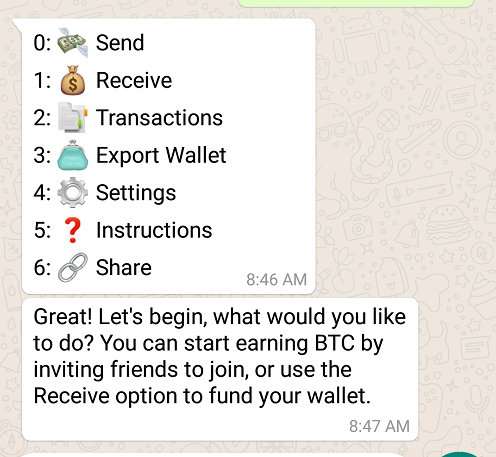 The amazing thing about this bot is that you can also earn free bitcoin by inviting friends, this might be a better opportunity for those who love to earn free bitcoin right from the comfort of their home.
How to Receive Bitcoin on WhatsApp
Type 0 and press 'Enter', to reset the bot
This time, it will bring you back to the option menu, Type in 1 to receive BTC
Choose how you wish to receive it, either via QRcode or btc address displayed underneath. In my case, I selected 2.
Send the QRcode or btc address to your friends for business and you are good to go.
However, aside of BTC, you can also receive other virtual currencies like Ethereum, Litecoin etc.
How to Receive other Virtual Currencies
Go back to the main menu by typing '0', and Change your default currency by selecting 1
Choose which coin you wish to use as your default
At the moment, the app doesn't supports ERC20 tokens yet. So earning airdrops via this means won't be possible. We hope that it will be added later in the future.
Note
: For now, this is just an addon and not FBcoin.