How to Get Glo 28GB Data for N2500
Glo the grand master of data appears to be giving out massive data to its customers silently and to enjoy this huge data giveaway from Glo, all you have to do is renew your active data on time.
Though, we are not certain yet if this is a promo from Glo or just a normal subscription bonus since there is no official word about it yet.
Normally, when you buy Glo N2500 worth of data, you should get 5.5GB + 7.5GB bonus (13GB) if you renew your data plan on time before the expiration, that's about 125% bonus on Oga Sim and only 25% bonus on normal Glo SIM. But according to the image below, this is more than just a 125% bonus.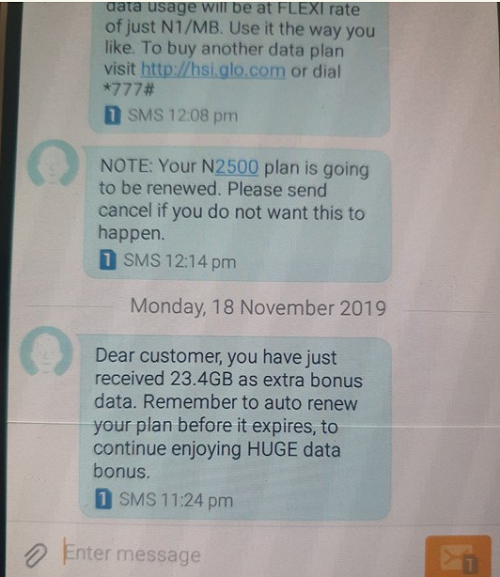 The user simply renewed his Glo monthly data plans and he got 23.4GB bonus plus 5.5GB normal data subscription. That's over 28GB data for just N2500.
If you've abandoned your Glo SIM for long probably due to bad network coverage or smartphone compatibility, it is time to take it up again or simply get a new Glo SIM that is automatically on Glo Yakata and you'll enjoy an exclusive massive bonus on data and airtime purchase.
If Glo network strength is good in your location, Glo seems to offer the cheapest data plan currently.