MultiChoice Launches Happier Holiday Naija, Pop-up Channels
The festive season is almost upon us and MultiChoice has promised to wow customers on both DStv and GOtv with a happier festive season to remember beginning from this November.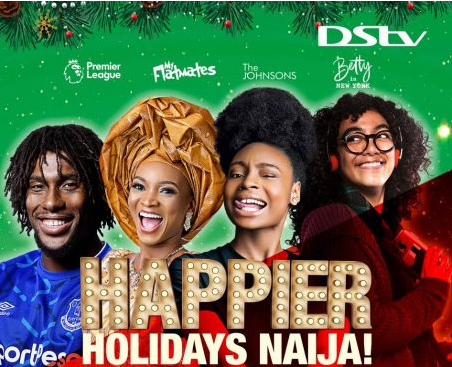 A new brand campaign has been launched by the company with the theme: 'Happier with DStv' and 'Make Time for Family with GOtv,' as it will enabled its customers to enjoy more curated contents to make this year's festive season exciting.
According to MultiChoice,
"We continue to put our customers at the heart of everything we do, that's why customers on DStv and GOtv will experience specially curated content, surprise pop-up channels and other top-notch value added services.
"DStv and GOtv customers will be spoilt for choice with the hottest contents and a Happier Holiday Season," says Martin Mabutho, the Chief Customer Officer, MultiChoice Nigeria.
Lined up Content for These Festive Season on DStv/GOtv
Some of the contents lined up include: Nigeria Festivals which feature the biggest music concerts and shows on the continent such as
AFRIMA 2019,
Unusual Praise,
The Experience,
Calabar Carnival,
Akwa Ibom Christmas Concert,
Miss Africa,
and Greater Lagos
on both DStv 198 & GOtv 29.
"Customers can also look forward to Africa's premier boxing Fiesta, GOtv Boxing Night, which is coming up on December 28 on SuperSport.
"Also, all Premier League, El Classico & more Live sports with experts' commentary and analysis on SuperSport this festive.
"In addition, the much-loved special kiddies' pop up channel, Animania opens December 4, and will be the perfect companion for DStv kids this season with the best-animated movies all day & every day.