Key Features of Ayoba the MTN Chat Messenger
When we tell you that MTN chat messenger Ayoba is here to unseat WhatsApp and Telegram, you thought it was just a mere statement. Today, MTN announced that the platform has reached 1 million active users.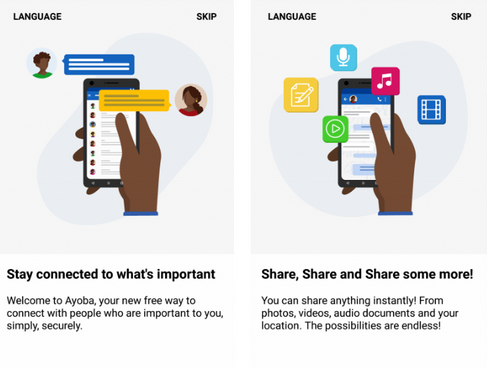 Launched earlier this year, Ayoba is a messaging app localized for African and Middle East consumer needs, under an independent Over the Top (OTT) brand with unique features for MTN customers.
At the moment, Ayoba is operational in 8 MTN markets which includes, Nigeria, Cameroon, Cote d'Ivoire, Congo Brazzaville, Ghana, Guinea Bissau, Afghanistan and South Africa.
10 Unique Features of Ayoba
1. Free to Use: Ayoba is free to use. You need data to send messages and files to your contacts, but some networks (e.g. MTN) may provide this data for free too.
2. Easy Sharing: Share videos, images, audio, and other files with your contacts.
3. Quick Connect: Use your existing address book to quickly and easily connect you with your contacts.
4. Calls: You can make calls within the app using your voice connection
5. Chat Now: Instantly send and receive text and voice messages with any of your contacts.
6. It has end-to-end encryption. Meaning your messages cannot be read by anyone else
7. Group Chat: You can create your own group, to easily communicate with friends and family.
8. Share real time location with your contacts without hassle
9. Chat with Everyone: end SMS text messages with anyone in your contact list, regardless of whether they've installed Ayoba or not
10. Money Transfer: Make and receive payments via Mobile Money (Coming Soon)
If you don't have the app yet, you can download it on
Google Play store
or from ayoba.me