Facebook Pay has been Launched
Facebook has just announced Facebook Pay, a single payment system that ties into all of the things under Facebook— Messenger, Instagram, WhatsApp and Facebook.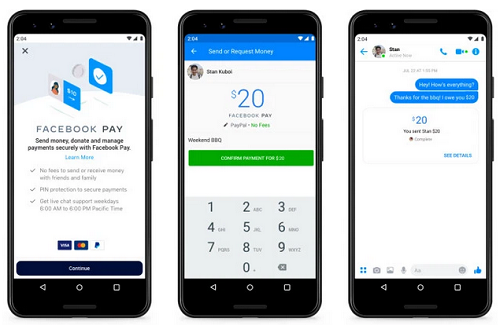 Facebook Pay makes it easier to shop, donate and send money to each other on the same platform. Note that this is different from Calibra wallet, used to handle Facebook Cryptocurrency Libra.
Facebook Pay supports most major credit and debit cards as well as PayPal. Payments are processed in partnership with companies like PayPal, Stripe and others around the world.
With Facebook Pay you can:
Add your preferred payment method once then use Facebook Pay where available to make payments and purchases on our apps, instead of having to re-enter your payment information each time
Set up Facebook Pay app-by-app, or choose to set it up for use across apps (where available)
View payment history, manage payment methods and update your settings in one place
Get real-time customer support via live chat in the US (and in more places around the world in the future)
Clearly understand which payment services are part of Facebook
How Facebook Pays Works:
You can start using Facebook Pay on Facebook or Messenger with just a few taps:
Go to "Settings" > "Facebook Pay" on the Facebook app or website
Add a payment method
The next time you make a payment, use Facebook Pay
It is rolling out first to Facebook/Messenger… before WhatsApp and instagram; also rolling out first to US before other countries.
You can check out more information on pay.facebook.com