November 2019 Cheapest Data Plans for iOS, Android and PC Users
Hey, Happy New Month to you as the year is gradually coming to an end. As we all know, Data is life, so we are going to review the most affordable data plans for this month November, 2019.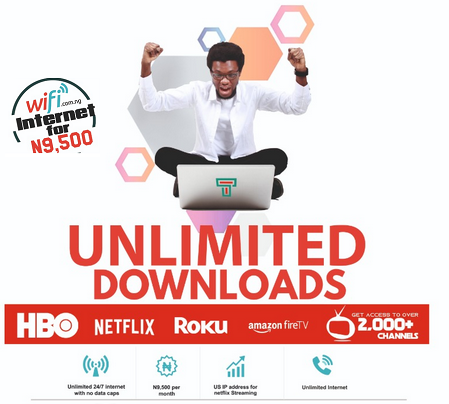 Data Plans for Unlimited Internet Users
If you are based in Lagos, i think you should try wifi.com.ng for an unlimited data plans N9,500 per month. It was reviewed here sometimes back. But there is a lot of improvement in there services at the moment.
Spectranet:
Spectranet 25GB for N10,000 Naira:
This plan is valid for 30 days and can be used at any time of the day. You get 25GB for N10,000 Naira and free unlimited night browsing. Subscription is made online via their platform.
Data Plans For Heavy Internet Downloaders
MTN 4GB for N500
: Do you have something big to download? Maybe movies, files, music or anything at all… no need to waste your normal subscription as you can easily with the said amount, get 4GB of data valid for 2 days.
The 4GB is exclusive to new SIM, if you try old sim, you'll only get 2GB. Dial *131*1*1*5# to get the package or dial *131#… You'll be given 2GB plus extra 2GB summing it up to 4GB.
Data Plans For Normal Internet Users
Airtel My Offer:
is a newly spotted offers from Airtel NG to all subscribers. It gives exclusive cheap data deals. Each Airtel sim is eligible for a special offer, depending on your sim – you should get an exclusive data offer when you dial *141# and then reply with 1.
1GB for N300 (Daily)
2GB for N500 (Daily)
1.5GB for N500 (14 Days)
3GB for N1000 (30 Days)
6GB for N1500 (30 Days)
9GB for N2000 (30 Days)
16GB for N3000 (30 Days)
Choose whichever package you are comfortable with and subscribe.

To check your data balance, dial *140#.

MTN My Offer: is a special plan designed for different customers that gives awoof data plan at an affordable price.

On MTN My Offer, you can get cheaper data plans starting from 1GB for 200 Naira, 1.5GB for 300 Naira or even more. All depends on your sim. Your sim will determine what offer you will be eligible for.

How to Get MTN My Offer

Kindly dial *567# on your MTN line to see the offers available for your sim chip.

MTN Data4Me: Just like Airtel, this is an exclusive offer from MTN to some special customers, and it gives you special data deals at an exclusive cheaper rate.

You can get 5GB for just N1000.

If your SIM isn't eligible, you get the message saying "Dear customer you can only enjoy 3 times of all your recharge". You might need to get another MTN SIM for it.
How to Get MTN Data4Me Deal
Dial *567*143#.
Validity is 14 days.
1.5GB for N500 Exclusive to MTN Pulse users:
Recharge your line with N500 and
dial *405*2# to subscribe.
Data is valid for 7 days

Dial *131*4# for data balance.

MTN 300% Bonus Offer: It is a new offer from MTN that gives subscribers 300% BONUS on all recharges & TGIF 150MB data bonus.

Everyone should be qualified for this offer… You can try it out to be sure.
How to Subscribe for 300% MTN Bonus
Dial *131*66#,
select 1 to opt in fully into the package.

Note: You'll enjoy this offer for just 3 months after which the bonus offer will be discontinued on your SIM chip.

Airtel Triple Data Offer: it rewards you with 3x the amount of data that you purchase.
For instance, if you purchase a data bundle of N1000, which gives you 1.5GB data, you will get 4.5GB data, plus N3000 airtime bonus to call all networks.
That is three times of your N1000 and the 1.5GB data that you purchased. Applicable for 90 days on all purchases of data bundles below N5000.
How To Activate Airtel Triple Data Offer
You need to purchase and register a new Airtel SIM or use an Airtel SIM less than 3 months old.
Presently, SmartCONNECT 6.0 is Airtel's default bonus plan for prepaid customers, which offers 100% or triple INSTANT bonus on every data bundle plus 8 times bonus on every recharge.
You must load your new SIM with any amount of money for the SIM to be fully activated
Then, Send GET to 141.
You should receive a response message like this,
Dear Customer, Congratulations! You can enjoy 100% DATA BONUS ANYTIME EVERYDAY FOR THE NEXT 3 MONTHS
Next is to send, MIFI to 141.
After that, recharge your SIM with the amount of the data you wish to purchase.
Once done, simply purchase any data plan that the airtime can afford, let's say you recharged N1,000 airtime, and you subscribe to the normal plan, you should get times three of the data plan.
Dial *123*1# for bonus balance, *123*2# for voice bundle balance or *140# for data bundle balance.
Airtel Premium Offer
You can get 4GB for N1000 (validity is 30 days)
2GB for N500 (validity is 14 days)
1GB for N200 (validity is 7 days)
Dial *141*241# to purchase your desired plan.
9mobile 1GB + 3 Hours Free Streaming
This is a
new offer
from 9mobile to help regain back her lost customers. It gives you 1GB + 3hours of free streaming for just N200.
How to Subscribe to 1GB + 3 Hours Streaming for N200
Get a new 9mobile SIM or if your 9mobile SIM is not older than 3months, and recharge it with N200
Dial *253*20# to subscribe to the package
You'll be given 1GB + 3 Hours of free streaming.
Not just that, but you'll also get 900% offer on recharges you make for good 90 days.
Dial *228# for data balance. Validity for this plan is just 2 days.
Glo Mobile NG: If you are a Glo user, Glo Yakata is the plan you should be because you'll get insane, ridiculous huge data and airtime bonus.
For instance, if you recharge N2500, you'll get upto 8000 free airtime to call all network, up to 14GB of data and lots more.

Recharge of N3000 will give you upto 16GB data valid for 1 month, up to N10,500 free airtime to call all network and lot more.

New Glo SIM are automatically on Yakata plans, so you should get yourself one. Old Glo SIM won't give you all this juicy offers except otherwise.

Dial *220*2# to check your Yakata Bonus balance and *127*0# to check your data balance.