How to Use Konga Cardless Withdrawal and USSD Services
Nigerian e-commerce company, Konga has launched a new Unstructured Supplementary Service Data (USSD) feature to ease transactions and a tool that allows cardless ATM withdrawals for its customers.
The e-commerce platform made the announcement via its twitter handle @shopKonga, noting that the development was to ease payment gateway and other forms of transactions.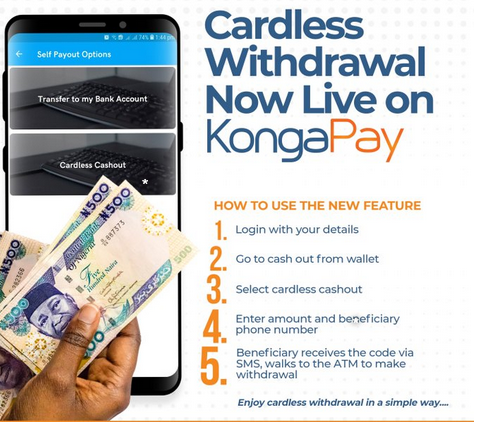 With the cardless withdrawal initiative, customers can now cashout without the use of ATM cards, make payment on the KongaPay platform and save up time.
The new features are available on Konga's secure payment platform, KongaPay, which is licensed by the Central Bank of Nigeria (CBN). The platform also offers peer to peer transfers, subscription payment for DStv, purchase of digital goods and airtime at discounted rates.
The new cardless initiative would allow account holders to withdraw cash from any Automated Teller Machine (ATM) nationwide, without a debit card.
How to perform your KongaPay transactions via USSD
Pay using any mobile phone by simply dialing the USSD code (*574#)
Selecting your preferred service.
How to Make Cardless Withdrawal
First of all, sign up on Kongapay.com and ensure that your KongaPay wallet is funded using any of the funding options
To cash out, users can click on the cardless cash-out feature, enter their mobile number or that of the person they wish to send money to.
The person you are sending money doesn't necessarily have to be registered on KongaPay Wallet. To complete the transaction, the user will have to input their personal identification numbers (PINs) and One Time Password (OTP) to complete the transaction.
The cash sent can then be withdrawn from any ATM using the cardless withdrawal or pay code cash-out feature. By inputting the 8 to 14-digit withdrawal code, earlier sent via SMS, and inputting the cash out PIN sent via SMS, the recipient can collect cash instantly.