Delete These 36 Useless Apps Right now Before They Crash Your Phone
It is so unfortunate that a lot of Android users download irrelevant apps they don't need that later turns out to be malware or spy apps in Google apps store.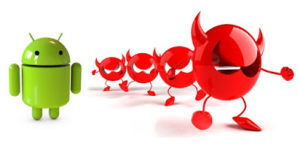 Here are other useless applications you should delete from your android devices which has been confirmed to have mischievous motives. These apps seek dangerous permission from app users which it doesn't necessarily need, monitor your locations and in the disguised prompt you to download malware.
According to VPNpro, the Chinese company Shenzhen Hawk appears to have launched 24 different sketchy apps into the Google Play Store that have racked up a total of 382 million downloads.
Of the 24 apps listed in the report, six request access to a user's camera and two to the phone itself, meaning they can place calls. 15 of the apps can access a user's GPS location and read data on external storage, while 14 can collect and return details of a user's phone and network. One of the apps can record audio on the device or its own servers, another can access a user's contacts.
This is What Happened Once Installed
Once installed, these apps can communicate with an external server controlled by their developers
It retrieving location and user details, the lowest risk is that this fuels targeted marketing, with user data sold to advertisers who will then be able to personalize unwanted ads for those users.
Those servers are in China, and at least one of those apps—Weather Forecast—was reportedly sending user data there. The permissions granted would enable premium calls to be made, websites to be visited and additional malware to be downloaded onto a device.
Here are The Useless Apps You Should Delete Right Away
You can also see the number of times theses apps have been downloaded
Sound Recorder (100M)
Super Cleaner (100M)
Virus Cleaner 2019 (100M)
File Manager (50M)
Joy Launcher (10M)
Turbo Browser (10M)
Weather Forecast (10M)
Candy Selfie Camera (10M)
Hi VPN, Free VPN (10M)
Candy Gallery (10M)
Calendar Lite (5M)
Super Battery (5M)
Hi Security 2019 (5M)
Net Master (5M)
Puzzle Box (1M)
Private Browser (500,000)
Hi VPN Pro (500,000)
World Zoo (100,000)
Word Crossy! (100,000)
Soccer Pinball (10,000)
Dig it (10,000)
Laser Break (10,000)
Music Roam (1,000)
Word Crush (50)
Scan through your phone again to be sure you don't have any of these applications on your device.