Steps on How to Remain Anonymous & Send Messages in Telegram Groups
Well, if you have been reading tech news regularly, you might know that recently WhatsApp updated its privacy policy. According to the new policy update, WhatsApp will now share your data with Facebook and other third-party services.
Although WhatsApp has delayed the new policy's rollout, the step has forced lots of users to switch to its alternatives. As of now, there are hundreds of WhatsApp alternatives available for Android, but out of all those, Signal and Telegram seems to be the best choice.
We have already shared a detailed guide comparing WhatsApp, Signal & Telegram. You can check out that article to know more about these apps. Recently, while using Telegram on Android, we discovered another best privacy feature known as 'Anonymous Message'
'Anonymous Message' is a group-specific Telegram feature that allows you to send anonymous messages into Telegram groups. In this way, no one can know your real name or identity.
Steps to Remain Anonymous & Send Messages in Telegram Groups
In this article, we will share a detailed guide on how to send Anonymous messages in Telegram groups for Android. So, let's check out.
Important: The feature is only available for Group owners. Only admins can set the ability to send anonymous messages to Telegram groups. Once enabled for a user, every message will be sent anonymously.
If you no longer want to remain anonymous, you should request the group admin to revoke the permission from the group settings.
Step 1. First of all, head to the Google Play Store and update the Telegram app for Android.
Step 2. Once updated, open the app. Now open the group on which you want to enable the anonymous message feature.
Step 3. Open the Group settings by tapping on the group name.
Step 4. To allow any member to send an Anonymous message, you need to grant the contact admin rights. If the user already has the admin rights, then long-press on the contact and select 'Edit admin rights'
Step 5. Now scroll down and enable the option 'Remain anonymous' and then tap on the checkmark icon located in the top-right corner.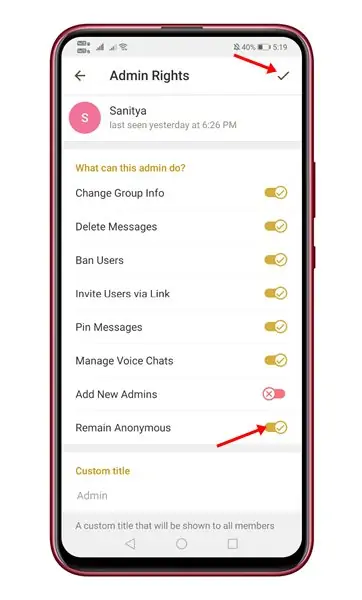 Step 6. Once done, whenever the contact will send a message to the group, Telegram will show the group's name instead of the real name.
That's it! You are done. This is how you can send anonymous messages in Telegram groups.
So, this article is all about how to send anonymous messages in Telegram groups. I hope this article helped you! Please share it with your friends also. If you have any doubts related to this, let us know in the comment box below.