10 Incredible Tips and Tricks for Online Gaming
Online gaming is one of the most common options for anyone to spend their free time, and its worldwide appeal and ongoing improvements in the gaming field have enabled people to make a career or make a fast buck or two, whether through tournaments and wagers in online games or casino games in online casinos and crypto casinos.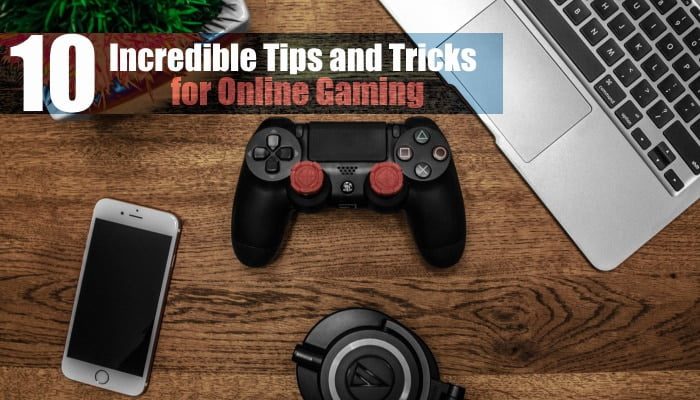 Online gaming can be challenging and perplexing for newcomers. Many first-timers abandon the entire gaming experience after only one rough attempt. However, with the appropriate combination of tips and atmosphere, anyone can have a terrific gaming experience, even if their first attempt was not particularly successful.
However, whether you spend money or not, online gaming offers risks to individuals all around the world. We have a lot of tips and tricks for you to get the most out of your online gaming experience and prevent any hazards.
1. Prepare Yourself
Never play an online game without understanding its concept or how to play it. This is the ultimate rookie error. No matter what sort of game you're playing, take a few minutes to learn about it beforehand.
Most games now include introduction movies that explain what the game is about in a few minutes or less. Alternatively, if you want even more information about the game, some excellent tricks, and a few hacks, you can join a variety of online groups. You can learn about the fundamental gameplay as well as technical and gaming blunders to avoid.
Furthermore, most creators have social media and YouTube profiles you can follow. Those platforms also give regular game updates.

2. Gradually Start

Don't make the mistake of believing you can play like a pro after only a few tries. It will take time, so be patient and learn gently. The speed with which you learn the game depends on the type of game you're playing. Almost every game has challenging levels to assist you (or any new player, for that matter). The early levels of the game are quite simple since they introduce the player to the game. As the game advances and the player makes progress, the difficulty becomes more difficult.

As a result, as a new player, stay to the novice levels until you are proficient enough to advance. Trying to progress too quickly or bypassing the beginning levels on your first try might be irritating and cause you to lose interest soon.

3. Adopt the Proper Mentality

Are you just having fun or are you trying to win? Before each game session, you should answer this question. The objectives you set and the expectations you have are determined by your thinking. You can create realistic objectives and find out how to reach them if you have the correct mentality.

The modes or sorts of games you play will also be influenced by your thinking. For example, if you're just playing for enjoyment, choose more relaxed or low-stakes settings, but if you're playing to win or improve, choose game types that push you to become a better player.

4. Set a Time Limit
Unless you're a professional online gamer, you should remember that gaming is only a pastime to which you should dedicate a limited amount of time. If you game every day, you should only have a defined period for gaming each day or set aside time each week for gaming. You can retain discipline, prevent addiction, and make hazardous financial judgments this way.

By scheduling time for gaming, you establish a habit that will influence your day-to-day activities and give you something to look forward to after work.

5. Take Breaks as Needed

While having a predetermined period for gaming assures that you will take a break when you reach a specific point, keep in mind that there is nothing wrong with taking a break in the middle of a gaming session if you believe it would help.

For example, if it looks like you've done nothing but lose for the whole session and you feel that you're on the verge of or have already begun to tilt, taking a little break might assist greatly not just with your mood but also with your performance once you return to the game.

6. Know When to Quit Playing

Another thing to keep in mind, especially if you're playing for money, is knowing when to quit playing. It's often wiser to cut your gaming time short if playing for much longer may reverse all of your gains and perhaps leave you with a net loss.

This is especially true when playing at online casinos and cryptocurrency casinos, where the house edge might catch up with you at any time. When you find yourself having already reached your daily targets or that the victories are piling up early, you must question yourself if you should continue playing. Departing early and ahead of schedule is frequently preferable to leaving late and late.

7. Preserve Equilibrium

Gaming should be only one area of your life, and you should make time to pursue interests other than gaming and employment. Maintaining a healthy lifestyle and exercising frequently are vital, but what does this have to do with gaming? Maintaining a healthy lifestyle will not only boost your mood, but it will also allow you to perform at your best when gaming.

Of course, if you're more serious about online gaming, you should devote more time to it, but not at the expense of disregarding your other responsibilities.

8. Consider Having Some Friends

Bringing some pals along might often be the greatest way to have a good first online gaming experience. Having a group of real-life pals either guide you through your first online gaming experience or go through the learning process with you might make a memorable occasion. It will also boost your affection for the game. Aside from bringing your own friends, online gaming allows you to create new friends entirely within the game. When playing multiplayer games, several online games allow for some sort of interaction.

9. Manage your Finances Carefully

Mobile payments for experience points or exclusive skins and rewards in-game are among the many attractive offerings available in gaming nowadays. This guideline also applies to online gaming, where careful money management is key to success.

You should only spend what you can afford to lose, and you should never use your daily budget to make excessive gaming purchases or deposits.

10. Safeguard your Privacy

Remember that online gaming is a community made up of thousands of other gamers from all around the world. And just because you're alone behind your computer or game console doesn't mean your privacy is safe. Furthermore, not every online gamer is attempting to play ethically. There might be a number of them with harmful motives, such as stealing your login information, game progress, game prizes, or in-game purchases.

As a result, do your part to safeguard your gaming experience. You might begin by establishing a secure password. Second, do not reveal your password to anyone. Third, do not divulge any of your personal information to anyone. Furthermore, do not click on links from other players or strange URLs that show in your game publisher's email.