WhatsApp Announces New Update to Groups, Community
WhatsApp has announced that it has begun rolling out Communities and that the feature will be available to everyone on the platform in the next few months.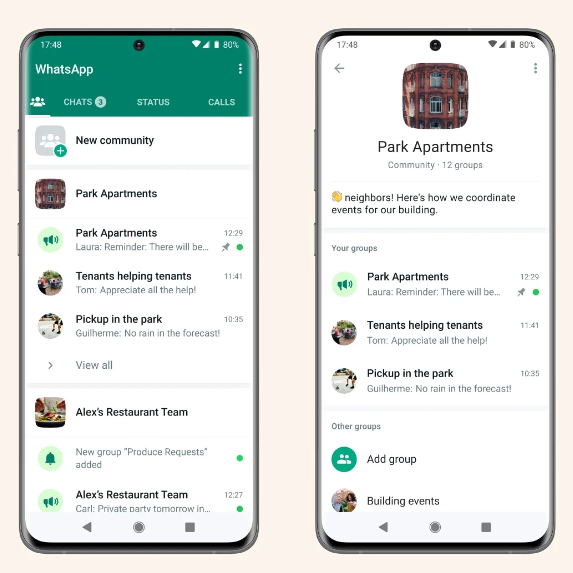 Meta CEO Mark Zuckerberg announced the Communities feature earlier this year, and the aim is to allow users to combine group chats "under one umbrella with a structure that works for them." Similar tools are in the works for Instagram and Facebook.
With communities you'll be able to set up smaller group chats within a community to discuss things that matter to you and switch between them with ease. WhatsApp will offer admins "powerful new tools" to manage communities, such as the ability to broadcast announcements to all members and being able to choose which groups to include.
When WhatsApp officially announced Communities in April, it detailed the following features for the update:
Conversations in Communities remain end-to-end encrypted
Phone numbers will be visible to Community admins
Your phone number will become visible to members of the same groups as you but otherwise remain hidden
Admins can add existing groups to the Community and unlink groups
Admins can remove individual members from the Community entirely
Group admins can delete inappropriate or abusive chats and media for all group members
Users can control who is allowed to add them to a Community
Communities will be private. No search or discovery option like Telegram
The Communities feature sounds a bit like Facebook Groups (it bears similarities to Nextdoor and Discord too) albeit with the protection of end-to-end encryption.
Also, WhatsApp is adding some new features to groups, even ones that aren't linked to a community. Polls are coming to groups, as is support for encrypted 32-person video calls, which Meta has been testing for the last several weeks. Additionally, groups now support up to 1,024 users.
"Just like emoji reactions, larger file sharing, and admin delete, these features can be used in any group but will be particularly helpful for Communities," WhatsApp said.