Huawei Band 8 vs. Xiaomi Smart Band 8: Which Should You Buy?
Xiaomi's Mi Band and Huawei's Band line of products have for many generations now duked it out in the affordable fitness tracker space with very similar features and different form factors, all geared towards taking the crown as the best fitness tracker.
In 2023, both Huawei and Xiaomi have their Band 8 devices vying for the top spot. So for someone that's looking to get one of these, which one tops the other? Which is the one to get? Over the past month, I have been using the Huawei Band 8 and the Xiaomi Smart Band 8 alternatingly and in this post, I take you through my thoughts to help you decide which one to get.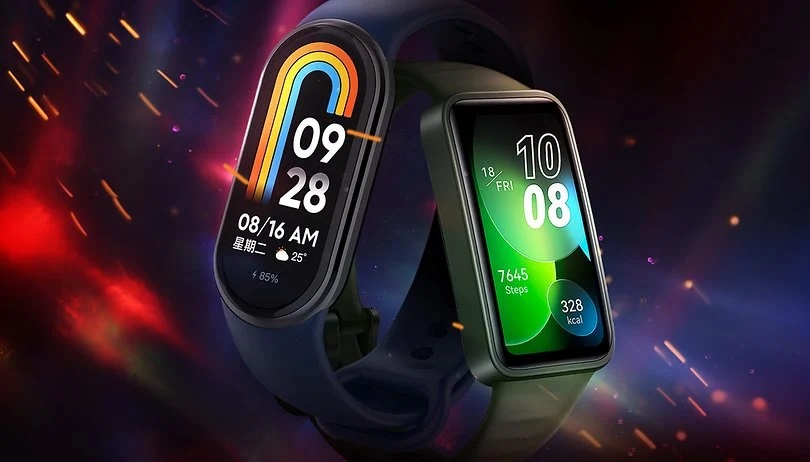 Worth noting straight off the bat is that these devices have been evolving slowly over the years and they both offer a wide range of features and functions that make them trade blows on almost all important aspects so whichever you end up picking, you are getting a pretty refined device.
Design

The Huawei Band 8 and the Xiaomi Smart Band 8 both stick to their predecessors form factor for the most part. They both spot rectangular screens and a silicone strap that can be replaced with different colors and styles.

Both devices are lightweight and comfortable to wear, and they are water-resistant up to 50 meters. However, there are some differences in the size and shape of the screen. The Huawei Band 8 has a 1.47-inch AMOLED screen with a resolution of 368 x 194 pixels, while the Xiaomi Smart Band 8 has a 1.62-inch AMOLED screen with a resolution of 490 x 192 pixels.

The Xiaomi Band 8 ditches its mono-silicon strap in favor of straps that latch on with a new mechanism and that allows you to finally try out different style straps, or even use it as a pendant or mount it on your shoe during that run because why not!?

Display

Both devices have customizable watch faces that can show various information such as time, date, steps, calories, heart rate, weather, notifications, and more. You can also swipe the screen to access different modes and settings.

The Huawei Band 8 has six watch faces to choose from out of the box with many more available via the Huawei Health App, while the Xiaomi Smart Band 8 has 7 watch faces to choose from. You can also download more watch faces from the respective apps.

The panel on the Xiaomi Smart Band 8 has a 60Hz refresh rate and my goodness what a difference does that make? Scrolling the UI feels fluid and smooth. The Xiaomi Smart Band 8's screen is slightly larger but doesn't feel like it as it is longer than it is wide, making UI elements and text have to wrap to fit the width.

You can also create your own watch face with your photos from the companion apps with Huawei donning a new feature that helps you design a fancy-looking watchface. The Xiaomi Smart Band 8 has more options and flexibility when it comes to the display, but the Huawei Band 8 has a simpler and cleaner interface.

Battery Life

Fitness trackers are known for their endurance, especially when they're new before the battery cells start degrading. The Huawei Band 8 has a battery life of 14 days and is powered by a 180mAh battery. On the other hand, the Xiaomi Smart Band 8 offers a longer battery life of 16 days and is equipped with a 190mAh battery.

This is theoretical and your mileage might vary depending on your usage and the features you have turned on. In my testing, both trackers lasted about a week with Always on Display enabled in the Automatic or Smart mode that allows the tracker to turn off the feature when it is not in use like at night to save on juice.

Fitness

What would a fitness tracker be without the ability to track your activity? Well, these two products are pretty polished when it comes to fitness tracking, perhaps due to the years of iteration and improvement that they've both seen from the many previous generations.

I am not the most active person but for the little runs and hikes that I take from time to time, these two track my steps to around 10% of each other with the Xiaomi Smart Band 8 overstating the workout but not by much.

The Huawei Band 8 offers more than 100 different exercise modes to track your activities. These modes include running, cycling, swimming, basketball, soccer, and many more. The band also features the Huawei TruSports algorithm that tracks various fitness metrics such as running ability index, VO2Max, recovery time, training load, training effect, and heart rate.

The Xiaomi Smart Band 8 offers more than 150 different exercise modes to track your activities but for even the most seasons fitness enthusiast, both devices track more than you will be able to do. However, it is worth noting that for many of these exercise modes, these bands only log the calories, heart rate, and calories.

Companion App

Both the Mi Fitness app and Huawei Health app are decently polished and well-designed with straightforward ways to interact with your smart band. They both offer detailed overview presentations of the data that the band tracks.

However, I ran into a small issue where the Huawei Health app wasn't always available on the Google Play Store and it would redirect to the Huawei App Gallery for updates which I thought was a little odd. No such issues exist with the Xiaomi Mi Fitness app.

Sideloading this on an Android wasn't that much of a hassle but I get why someone who isn't too savvy might stumble a little when installing and dealing with the Huawei product.

Pricing and Availability

The Xiaomi Smart Band 8 goes for Ksh 6,800 (175,000 UGX, $46, or 36,000 Naira) while the Huawei Band 8 will run you a cool Ksh 7,999 (204,000 UGX, $54, or 43,000 Naira). While these devices do have their global or international versions, I could only source for the China variants.

While these are pretty similar to international versions, there are a few issues like untranslated watchfaces, and apps like Alipay and Weixin Pay that are built in, can't be used here and can't be uninstalled. Also, NFC is pretty much useless.

I also ran into issues setting these devices up using my existing account as I had to sign up for new Huawei and Xiaomi accounts with a Chinese ID to get these to work.