How to Get MTN Free 10GB Plus 100% Bonus on Data Purchased for 3 Months - MTN Data Reward
MTN 4G has covered every city in Nigeria, MTN has also launched 4G+ which essentially doubles the speed of 4G, but it is so unfortunate that lots of subscribers still refused to upgrade their 3G SIM to 4G SIM which in other words will limit your browsing experience.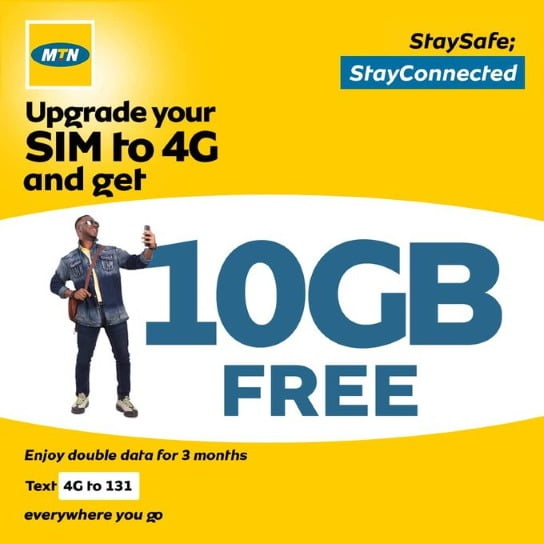 With 4G+, MTN has the capability of delivering speeds of up to 200 Mbps. This will translate to even much faster downloads, better streaming experience, and even clearer video calls on MTN's 4G network.
MTN wants you to upgrade your 3G SIM to 4G so that your browsing experience can improve, and not just that, but you get to see more bonuses and double data offers for 6 months once you upgraded to 4G.
You will enjoy the following benefits when you upgrade to 4G on the MTN network:
Free 10GB upon upgrade to 4G SIM valid for 7 days
100% bonus on every N500 to N5000 data bundles purchased from month 1 to month 3 after upgrading SIM to 4G.
25% bonus on all data bundles purchased from month 4 to month 6 after upgrading to 4G. Newly activated and existing 4G customers will enjoy only 25% bonus for 6 months.
Initially, once you upgrade your SIM, you only get free 4GB data, but now, it has been increased to a whopping 10GB free data!
How to Upgrade Your SIM to 4G
Be aware that the SIM upgrade is free.
Visit any MTN service center or connect store around you with your;
Phone number
3G SIM card
SIM pack or a sworn High Court affidavit as a proof of ownership (if the serial number on the SIM is no longer visible)
A customer care representative will attend to you, and given a new SIM Pack. You can Dial *123*1*7# to use shop locator if you are having challenges locating one.
Once upgraded, text 4G to 131 and you'll receive free 10GB data.
Please use the comment box to share with us your experience with MTN 3G SIM and when you will be upgrading to the 4G SIM.