Messenger Rooms Now Live, Make Free Video Calls to up to 50 People
Facebook Messenger Rooms is now live, you can make calls with up to 50 persons on mobile and desktop – It is available to everyone.
The product is a more feature-rich and expanded version of the existing Facebook Messenger's video calling function, and it allows up to 50 people to chat on video with no time limit through either the main Facebook app or through the dedicated Messenger one.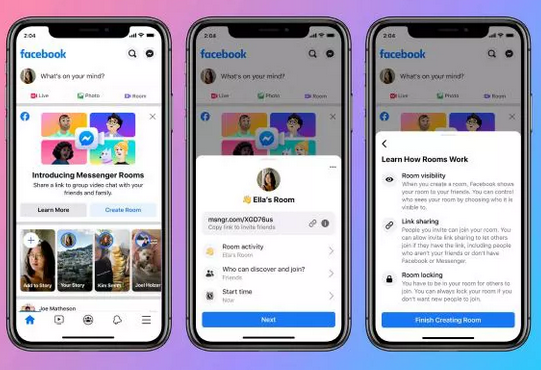 Facebook announced messenger rooms a few weeks back in response to the popular zoom app that has become popular during this covid19 pandemic. With Messenger ROOM, there are no time limits of the video you can make.
When you have it, you can create a room from Facebook (in North America) or Messenger (globally). You can have up to 50 people on a free video call, with no time limits whatsoever.
Facebook says you can set limits on who can join, or you can make it public to anyone with the link even if they don't have a Facebook account.
"You can start and share rooms on Facebook through News Feed, Groups and Events, so it's easy for you to drop by whenever you want,"
"You can choose who can see and join your room or remove people from your room and lock the room if you don't want anyone else to join."
Facebook is promoting the new product in its main app with a carousel of cards at the top of the screen that lists various friends' faces and the option to "Say Hi." Tapping any one card will give you the option to create a room with that person or message them directly on Messenger.
Enough has been said, it is time to experiment it by yourself.
Let us know what you think about this new feature from Facebook in the comment.