Glo Festival of Joy Promo: Win Houses, Cars, Generators, More
Prizes, including houses and cars worth several millions of Naira are up for grabs by customers as foremost digital services company, Globacom, launches an exciting end-of-the-year promo, tagged Festival of Joy.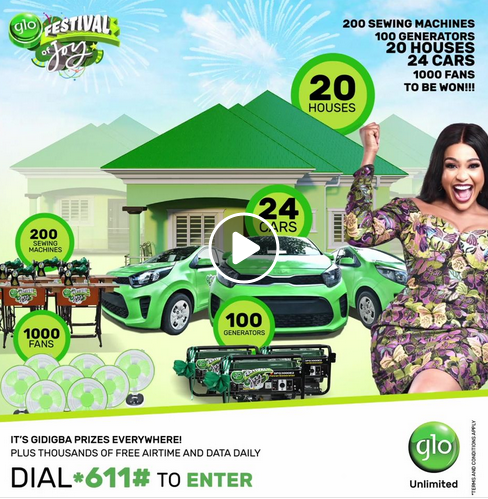 The promo, which offers 20 houses, 24 brand new cars, 100 generators, 200 sewing machines and 1,000 rechargeable fans, was unveiled by Globacom at a press conference held at the company's headquarters in Lagos.
"lucky subscribers who take part in our End of Year promo, which will run from October 2022 to January 2023, will be eligible to win fantastic life-changing prizes."
How to Participate in Glo Festival of Joy Promo
Customers, who wish to participate in the promo, are enjoined to dial the dedicated short code *611# and recharge between N3, 000 and N15, 000 (for voice and data during the promo period) and they will be eligible to win the prizes on offer.
Also subscribers must make data subscriptions of at least N20, 000 during the promo period to win the grand prizes of 20 units of three-bedroom houses.
The higher the recharge by subscribers, the higher their chance of winning prizes in the Festival of Joy promo. The cities of Lagos, Abuja and Port Harcourt as well as others including Onitsha, Ibadan, Kano, Benin, Uyo, Calabar, Enugu, Ilorin, Jos and Warri will host the draw exercise, which will produce the winners across the country.